Tuesday, Apr 12, 2022
3 Tips For Buying Used Forklifts
There's nothing quite like a shiny new piece of expensive material handling equipment. After all, brand new forklifts have all the latest bells and whistles. But there's something to be said for finding a good used forklift, too. If you take the necessary steps to make sure you're getting a forklift that's been treated right, you won't be disappointed. And for a lot less money, you'll get a forklift that's new to you and can give you plenty of time in the material handling warehouse before you have to go shopping again.
Just like with buying anything used, it's a good thing to do your due diligence. You'll want to make sure you are trading with a material handling dealer that you know and trust. Although you may be able to trust a friend – or even a friend of a friend, buying an expensive piece of equipment, such as a forklift, from a total stranger is asking for trouble.
If possible, shop local. In most cases, your local market will have some used forklifts available. Hopefully, you've already cultivated those relationships to some degree, but if not, looking for a used forklift is a great way to strike up a new friendship and partnership. Plus, you'll most likely be paying some delivery fees for your "new" forklift, so choosing to buy from someone close can save you a ton of money.
If possible, you'll want to have a trusted mechanic take a look at the inner workings, especially if you are buying from someone other than a trusted dealership. There are some visuals you can do yourself (more on that later), but it doesn't hurt to bring a technician with you.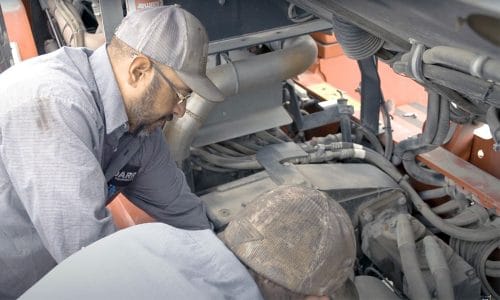 Here are three tips for buying a used forklift.
Buy from a Trusted, Local Source
If you've decided that you need an addition to your material handling forklift fleet, but you aren't ready to pull the trigger on something brand new, you'll be shopping for a used forklift. Perhaps this is your first piece of material handling equipment in a brand new, fledgling business. Maybe you just need a forklift for occasional, and not full-time, work. There are many reasons why people choose to buy used forklifts.
If you've got an established relationship with a material handling dealer that you trust, that's a great place to start. In these situations, your material handling partner isn't going to want to jeopardize your future business by selling you a turkey. This is a good source for advice on exactly what brand holds up well and what you should look for in your used forklift. And if they don't have what you need, there's a good chance they can find it for you – or at the very least, refer you to someone who can help.
Additionally, you'll most likely be paying some form of delivery fee to have your forklift brought to your warehouse. Doing business locally just makes sense – it builds up relationships and costs less money when there is a delivery involved.
If a local material handling dealer isn't in the cards, perhaps you have a friend that can direct you to a reputable source of used material handling equipment. Don't buy a forklift – or any piece of expensive material handling equipment – from a source such as ebay or other online shopping sources, such as craigslist (Craig's List). Auctions are another source, but tread with care as you most likely won't have a complete history of the forklift.
Take a Knowledgeable Technician or Mechanic With You
There is a lot you can do yourself when inspecting a potential used forklift acquisition. But you should still consider bringing along someone who really knows what to look for, even if it's just another person to bounce ideas off. At the least, do the first inspection yourself and if you have any concerns or questions, bring your buddy back for a second look-see. Here is a rough checklist of items to inspect.
Check the exterior and interior of the equipment thoroughly. What you'll be looking for here are obvious signs that the machine has been ill-treated or isn't going to function as it should. For example, what shape are the forks in? Forks should not be overly worn and should not have cracks. Any place that looks welded could be a potential troublespot. New forks average $500, so unless you want to purchase new ones for your used forklift, check the condition carefully.
As with the forks, the lift chains need to be checked for gaps. As you should know, OSHA recommends a chain inspection as part of the daily forklift check prior to use. That's because a chain that breaks while in use is capable of causing injury and even death to those around the forklift. So, you'll definitely want to have a chain in good shape, or at least go in knowing that it needs replacing. A forklift chain under normal operating conditions should last from three to five years.
Check the pins, because someone in the past may have been lax about oiling the chains. Pins are a critical part of the infrastructure of the chains. Use a chain gauge to measure the wear and tear – this is actually one of those things you might want to have someone with some experience perform. Check for corrosion and rust – obvious signs that the forklift has not been cared for properly.
You most likely know what a forklift engine is supposed to sound like and how a smoothly-operating mast behaves. After running the engine for a few minutes, check the fluids, belts and everything else under the hood (this is where that mechanic friend might come in handy). Check for leaks in the engine and around the forklift. You'll want to see the mast extended to its upper height – it should go up and down smoothly. Make sure all the safety features are in good shape: the horn, any lights, seatbelts, brakes and overhead guard.
Although you cannot typically tell how old a battery is, it should still be on your list. It's difficult to tell how much life is left in a battery, unless it's grossly dirty and leaking, but if you are working with a trusted source, you can always ask. A battery should last on average five years under normal (one-shift) operating conditions.
Finally, kick the tires! Well, you don't really have to kick them, but you should inspect them for wear and check the tread. You can always do the penny test to see if it's time to replace the tires. You should probably plan to get your hands dirty by feeling the tires for missing chunks. Worn tires will not only need replacing soon, they are dangerous and cost additional money by making your machine less fuel efficient.
Do Your Research
In conclusion, as with most large purchases, you'll want to do some research before writing that check. What will you be using this forklift for and how often will you be relying on it? Do you understand how to compare an odometer reading to a maintenance log to make sure everything is on the up and up? Do you have a trusted source that can help you pick out a good machine that still has plenty of life left in it?
At Darr Equipment, we've been helping the material handling industry for more than 65 years. We wouldn't still be standing if we didn't put people first. We understand your needs and have the experienced personnel ready to jump in and give you a hand. Contact us today, give us a call at 1-800-964-LIFT or visit us at our headquarters in Dallas.