Monday, Jul 25, 2022
Aerial Equipment Can Deliver Productivity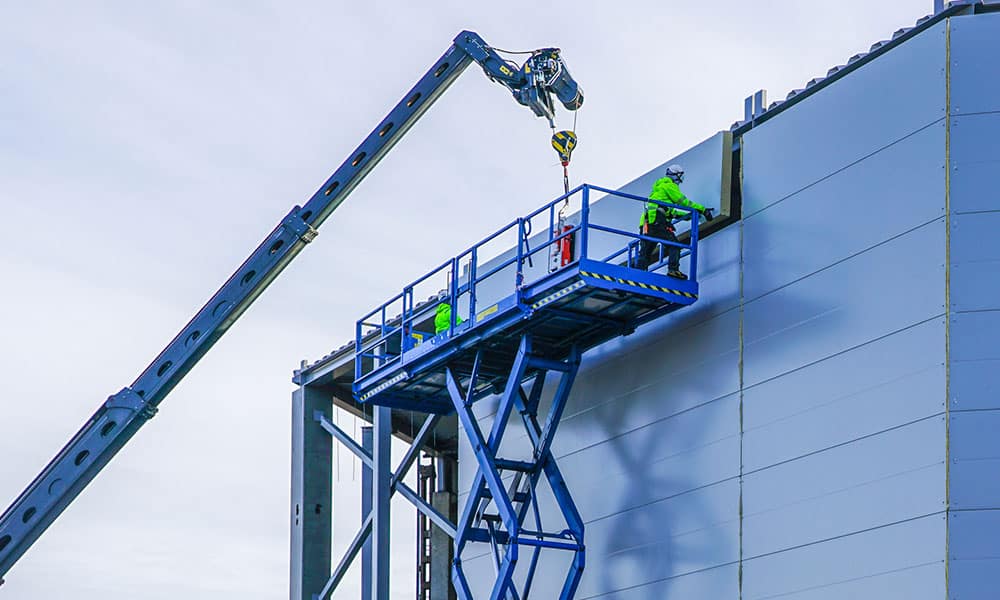 In the material handling and distribution center warehouse industry, it isn't strange that we are constantly thinking in terms of "up". We live in a world of "lift" trucks. We need to have reach trucks and stackers. Our storage units generally go "up" in the form of racking and when we look for more space, we sometimes find it in a vertical mindset. And there are occasions when we need equipment that will reach high points in the warehouse or go even further. And that's when we turn to specialized equipment. When our material handling job means we must reach places inaccessible to most equipment, that's when we bring out the aerial lift equipment, in the form of scissor lifts, boom lifts and aerial work platforms.
What exactly is aerial lift equipment? The term means anything that has the capability of lifting some sort of platform for workers in the air. Let's examine some types of aerial lift equipment.
Scissor Lifts 
Got beautiful floor to ceiling windows in your new car dealership? A scissor lift is the perfect solution to clean those windows near the ceiling. Since scissor lifts only move vertically, the uses are limited. However, the stability and work platform make the scissor lift a good choice for interior work, regular cleaning and repairing of exteriors and some construction operations. The scissor lift is a stable and safer choice for many applications. There are three types of scissor lifts, including:
Slab Scissor Lift – Capable of extending up to 46-ft and holding up to 1,200-lbs, this equipment operates best on a flat and stable surface.
Rough Terrain Scissor Lift – Capable of operating in less optimum conditions, this equipment can extend to 59-ft and hold up to 1,500 lbs.
Single Man – Like it says, this equipment is light and extremely portable, perfect for the handyman working around schools and churches, with a reach of up to 46-ft and load of up to 500 lbs.
Boom Lifts 
Boom lifts are able to reach up to 170-ft and unlike the scissor lift, can go up and around or over obstacles. Similar to the scissor in that the purpose is to put a worker or work crew to a height, the platform on the boom lift may not be as spacious as the scissor, since workers must be aware of the tipping danger. You'll find this equipment attached to a grounded base or extending from a truck or van. There are two types of boom lifts, including:
Straight (Telescopic) Boom Lift – When you need to reach the highest of highs, the straight boom is the equipment for the job. Considered more stable than a boom that moves out, over and around, this boom only goes straight up. Due to its stable nature, it can reach heights of 185-ft, the highest of all aerial lift equipment. If your job calls for putting workers high up and holding them there, your straight boom is the equipment you need.
Articulating Boom Lift – Articulating booms won't go quite as high as the straight boom, but sometimes you need agility and maneuverability at heights and that's where the articulating boom comes in. Excellent for moving over and around obstacles, this equipment can reach up to 140-ft and carry a payload of up to 1,000-lbs.
Telehandlers
When you need to combine your material handling forklift with your telescopic boom, you are describing the telehandler. These versatile pieces of equipment can take a load from inside a trailer and raise it up, as well as letting the operator place it precisely where it needs to go. Flexibility with the ability to work in a rugged environment make this equipment perfect for heavy-duty operations. There are two types of telehandlers, including:
Telescopic Telehandler – When you need to go up and down and in and out, this will be your choice. Rated for up to 55-ft and 12,000 lbs, this equipment puts the productivity of a crane, a forklift and a boom in your hands.
Rotating Telehandler – Just as the name promises, you'll get all the capabilities of the regular telescopic but with the ability to move 360 degrees for wider area servicing.
Let's take a closer look at where we might find people using aerial lift equipment in the material handling industry.
Aerial Lift Equipment in Industries
Just as in other forms of material handling and DC warehouse equipment, such as forklifts, there is a wide variety of aerial lift equipment available to answer specific challenges in an assortment of industries and applications.
Aerial work platforms come in an assortment of sizes and weights. The lightest of aerial work platforms can be brought in and set up by one person, meaning your all-around handyman can use this piece of equipment to go places where ladders cannot. With scissor lifts, boom lifts and mast lifts in the aerial work platform space, there is a piece of equipment for every application. This includes:
Warehouses – You wouldn't think changing a light bulb would be any big deal. But when that lightbulb is 36-ft in the air, your typical ladder isn't going to do. A scissor lift could get your man that high, but what if the bulb is located over a racking set-up? Since a scissor lift only goes vertically, you'll need something that can go up and then out – or over – or around, such as an articulating boom.
Construction – There are just as many places where aerial lift equipment shines in construction as there are types of things being constructed. Airport and highway construction teams need a variety of telescoping and articulating booms, while the interior of an apartment building can use a scissor lift for painting and other applications. Some construction sites call for rugged equipment, such as a rough terrain scissor lift or a diesel-powered boom.
Agriculture – Agriculture calls for a variety of aerial lift equipment usages, especially lifting heavy loads up and into a precise placement, perfect for the telehandlers.
Energy – Whether servicing a power station or a downed power line, checking on a malfunctioning wind turbine or working at an oil refinery, aerial lift equipment, including booms and telehandlers, has a place in the energy industry.
There are many more industries that employ this specialized aerial lift equipment. Due to its nature, aerial lift equipment calls for specialized safety training and ongoing work safety checks.
Going Up? Darr Equipment Can Help
At Darr Equipment, we partner with JLG and Genie aerial lift equipment, two names with stellar reputations in the material handling industry. Contact us today for help with your aerial lift equipment needs.