Wednesday, Sep 22, 2021
Clear A Path To Industrial Floor Cleaning Benefits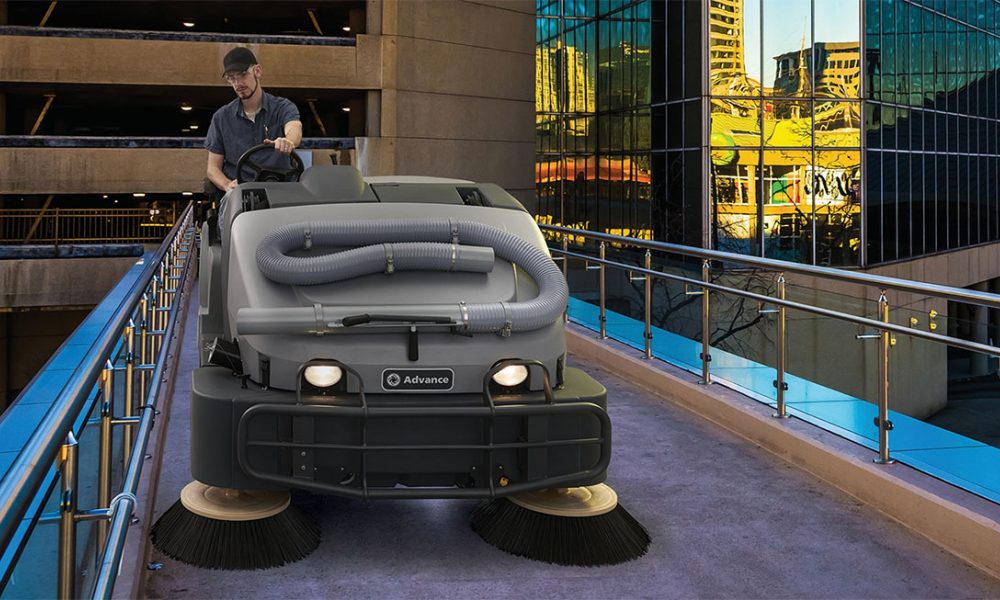 At Darr Equipment Co, we believe cleanliness in the work space is conducive to more productive and efficient work. Why? Well, there are several reasons, including:
When employees and visitors see that you care enough about the work area environment to keep it clean, they are themselves more likely to put forth the effort to stay organized and dirt free.
Employees who aren't continuously worrying about the amount of dust and dirt they are being exposed to are free to concentrate on their job.
Employees are happier when they feel safe from a poor-quality environment – happy employees work harder.
Employees are more likely to be at work if they aren't having an asthma attack due to poor air quality.
Keeping your industrial floors clean and free of dust and grime doesn't just help your employees – which ultimately helps you – it can also help today's more sensitive equipment. Everything from modern forklifts to warehouse management systems seem to run on computer-power, which runs better when dust isn't collecting. At Darr Equipment Co., we partner with two brands of high-quality industrial and commercial floor cleaning equipment: Advance and Factory Cat.
Advance Floor Cleaning
At Darr, we offer brands that we trust to our valued customers. If you aren't happy, we aren't happy. That's one reason why we partner with a brand such as Advance. Known for its commitment to quality and service, we are confident that this is a good choice. Let's take a look at some of the innovative equipment Advance has to offer.
The Advance Family of Sweepers
With choices between walk-behind and rider sweepers, the Advance SW family consists of the SW900, Terra 28B and BSW 28B walk-behind sweepers and the SW4000, 5500 and 8000 rider sweepers.
SW900: Indoors or out, this rugged walk-behind sweeper is up to the task. Multi-broomed and ergonomically-designed, you'll get hours of time before needing to plug it back in.
Terra 28B: Usable on all floor types, this handy sweeper is a broom and a vacuum that is capable of picking up debris that ranges from sand to soda bottles.
BSW 28B: Move from hard surfaces to carpet with the ability to clean up to the edge of the wall. Ease of operation and no-maintenance battery make this an investment worth considering.
SW4000: A retractable hopper and advanced hydraulics allows this cleaner to operate safely and efficiently in a wide variety of settings. Offers ability to work in tight spaces and narrow aisles.
SW5500: Operator ergonomics and safety, coupled with green-driven, emissions-free battery configurations will make this a favorite. Simplified and maximized, your ROI comes with brush-life extension and reduced cleaning costs.
SW8000: Top-of-the-line dust control and a little over 6-feet of sweep area combine to offer a huge 71% increase in productivity indoors and out. Operators direct all functions from the cab, eliminating time-consuming movements on and off through cleaning.
The Advance Family of Scrubbers
As with sweepers, the Advance family of scrubbers offers walk-behind and rider versions consisting of small, medium and large walk-behinds and the SC family, the AS family, the Focus family, Advenger, SA40, RA40 and 2800D/3400ST riders.
SC Family: The SC family consists of the SC1500, SC2000, SC3000, SC5000, SC6000, SC6500 and SC8000. From the cost efficient and compact with a 12-gallon tank to the top-of-the-line with the ability to clean 100,000 sq. ft. with one tank, there's a scrubber here for you. Safety, ergonomics and great ROI are embedded in every model.
AS Family: Consisting of three models, this group offers a cost- and user-friendly way to get the job done. From a mini to a beast that can handle up to 75,000 sq. ft. of floor space, the AS series is rugged, yet affordable.
Focus Family: With two models to choose from, the Focus series offers a small and maneuverable model ideal for narrow aisles and tight spaces and a larger model complete with the technology to strip and restore floors.
Advenger: Improve ROI with standard features that save water and detergent while operating in tight, confined spaces. Three models to choose from with operator safety and ergonomics, as well as green initiatives in mind.
SA40: Flexible, compact and easily maneuverable, this disc scrubber gives you more than an hour of cleaning time.
RA40: You'll save money when this tight space genius slows down water and detergent in sync with the driver's speed.
2800D/3400ST: You'll get the dependable excellence you've come to expect with this back-to-the-basics design that puts the control in the operator's hands.
Advance also offers two rider combination sweeper-scrubbers, the 7765 and the hybrid CS7010 models. When you need the heaviest cleaning power in an industrial setting, the 7765 answers the challenge. For environmentally-conscious companies that need power, the CS7010 offers low maintenance and maximum cleaning.
Advance floor cleaning equipment combines ease of use, operator ergonomics and a great ROI to simplify operations while optimizing efficiency and productivity.
Factory Cat
Battery-powered and family-owned since 1986, Factory Cat floor cleaning equipment is innovative and environmentally-conscious. Proudly built in America with American parts, Factory Cat helps you stay innovative in a competitive market.
Factory Cat Scrubbers
With five models of walk-behinds and four ride ons, your specific application challenge will be understood and answered.
MicroMag, MicroMini and Micro-HD: With three models, the Micro line of walk-behind scrubbers are perfect for working in busy, tight areas with lots of other traffic. Small and manageable, the Micro line is quick and quiet.
HD line: Consisting of the Mag-HD and the Mini-HD, these models are designed for mid-sized and large areas, respectively. Scrupulous cleaning and custom availability, the HD models provide maximum output.
Factory Cat Sweepers
With the 34 Floor Sweeper walk-behind and the TR Ride On Sweeper, Factory Cat addresses plenty of operational challenges.
34 Floor Sweeper: Built with longevity and durability in mind, this model offers a lifetime baghouse filter design and pulls no punches when asked to work in the harshest of environments, including mines, steel mills and sawmills.
TR Ride On Sweeper: Small and maneuverable, this high volume, low pressure suction system comes with an assortment of attachments to tackle a wide variety of debris on many different surfaces.
Factory Cat Sweeper-Scrubbers
The XR series of rider sweeper/scrubbers are maneuverable, rugged and designed to offer peak performance for your optimized productivity. Available with two specialized cleaning systems and five deck sizes to choose from, you'll be able to pick the one that best fits your needs. Ergonomic design and ease of service make this choice an easy one.
More Floor, Less Chore
In today's competitive and fast-moving world, companies and organizations need industrial and commercial floor cleaning solutions that address work space and environmental concerns. At Darr Equipment Co, our professional staff is ready to help you choose the surface maintenance system that best suits your needs for maximized production and efficiency. Contact us today to learn more.