Tuesday, Aug 8, 2017
Darr Equipment featured in Dallas Business Journal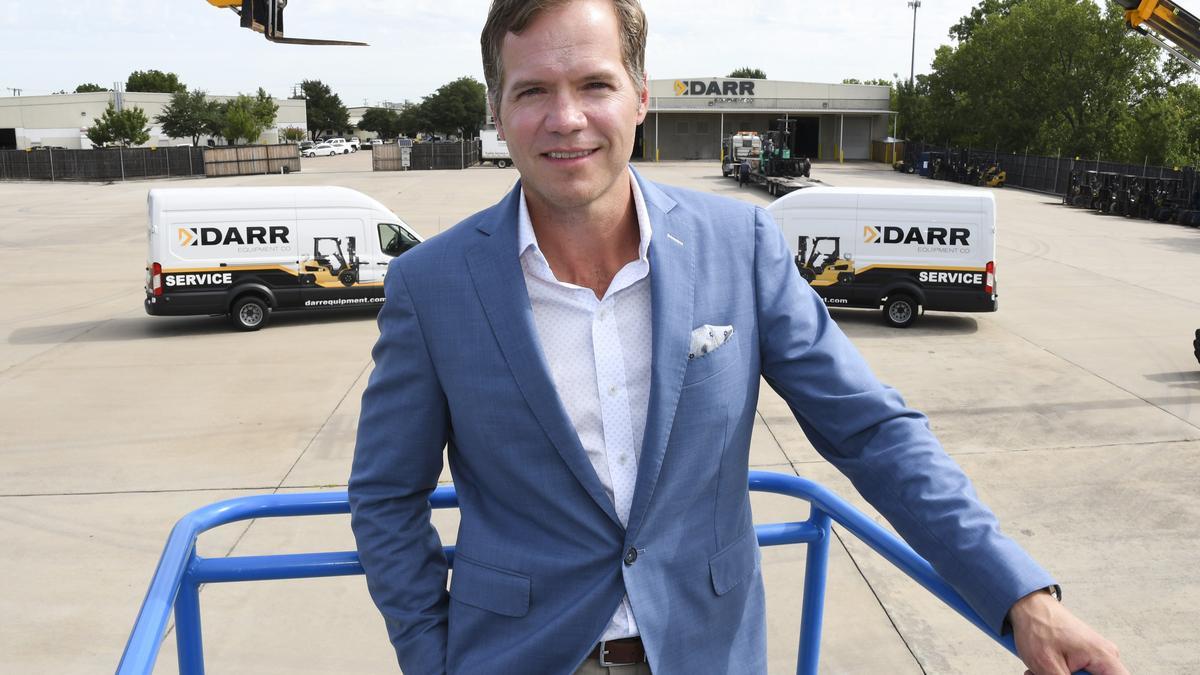 From the Dallas Business Journal: https://www.bizjournals.com/dallas/new…
This 9-figure DFW company's ambitious growth plan — double in 5 years
Aug 9, 2017, 2:33pm CDT
When you're a kid, heavy machinery is pretty awesome.
That's part of the reason why Robert Engstrom, president of Darr Equipment, knew he wanted to work in the family business from a young age. His great grandfather founded the company in 1954 and Engstrom, 40, is the fourth generation to lead the firm.
"I always had aspirations of working for my dad, he was my hero," Engstrom said. "I never really wanted to do anything else."
Dallas-based Darr Equipment is an industrial equipment supplier that represents brands like Caterpillar, LiftKing, Mitsubishi, Kalmar and Jungheinrich. Darr also services the equipment, and that's the aspect Engstrom thinks separates himself from competition.
Engstrom declined to share a specific revenue figure, but did give a range of $100-$200 million annually. He wants to make his own bold stamp on the company — double revenue in just five years.
"Which is ambitious," Engstrom admitted, "and not achievable without more acquisitions."
Darr Equipment's last acquisition in 2014 of Houston-based Adobe Equipment essentially doubled the size of the company, Engstrom said, and Darr Equipment has been digesting the move ever since.
The company's current footprint is 15 locations in Texas, Oklahoma and Louisiana. It employs 500, with 200 of those being in North Texas.
To share his strategy for growth and the industry, Engstrom sat down with the Dallas Business Journal.
[CUTOFF]
Who are your customers?
Our customers are vast. They range from food and beverage, lumber, pipe, the building products industry, sheet rock, roofing material, brick. A lot of our customers are in the oil and gas space, shipping and logistics. Light manufacturing and heavy manufacturing. Our forklifts services touch a multitude of different industries. We're pretty diverse, especially here in Dallas.
Is your business vulnerable to one particular industry taking a downturn?
We are constantly looking for opportunities to diversify our business. Food and beverage is an industry where we do business in that is pretty resistant to downturns in the economy. But, yeah, a lot of our customers are tied to housing one way or another, or oil and gas. We've been adversely affected by the price of oil in the last few years, especially with our business in Houston that's highly driven by the energy economy. However, the diverse nature of our business in Dallas has really helped us weather those storms.
Why would a company like Caterpillar use you instead of doing the service aspect themselves?
Our manufacturers really recognize the value of having a strong dealer network. In fact, if you were to ask Caterpillar they would tell you that their strong dealer network is their No. 1 asset. And the reason for that is we are here. We are physically here. We know this market. We know our customers better than the manufacturer does. And they'll be the first to admit that. It's critical that they relinquish the ability to service the products to a party who lives and breathes it rather than do it themselves.
Servicing these machines seems like a highly skilled trade. Is finding talent hard?
It might be our biggest challenge. The skilled trade seems to be a dying breed and finding qualified technicians to work on this equipment is becoming a bigger challenge every day and they're highly sought after. It's a competitive landscape. These machines that we sell today are very sophisticated, technologically advanced and require a certain set of skills to repair. We invest a lot in recruiting, training and retaining technicians. Like I said, it's the lifeblood of what we do. It represents about half of our total employees.
Outside of your three states, are you looking to expand your footprint?
We are. We made a sizable transaction in 2014 which doubled the size of our business overnight. After digesting that acquisition, we're ripe for more growth. We're actively looking for more opportunities within our footprint and inside as well.
What's more appealing to you — a company that's within your southern footprint or breaking into a new area of the country, like one of the coasts?
Ideally, an acquisition would be within our existing footprint or contiguous for logistical reasons. We've been in business in Seattle, Washington before and been in three different time zones at one time. It's just difficult to manage. Ideally we'd look within arms reach.
What makes a good acquisition partner?
We're looking for exclusive territory, quality products, quality people. And it's really the people and the operators who make it work. Our people are family here and our people are the single biggest asset here.
Do you have any interest in seeking outside funding?
Perhaps. If an acquisition necessitated the need for more capital, I'm open to it. We've always been family-owned and funded.
Robert Engstrom, president of Darr Equipment
Education — Bachelor's in economics from the University of Texas at Austin
Favorite spot in DFW — Oddfellows for Saturday breakfast with his children
Quote he lives by — 'I can do all things through him who strengthens me,' Philippians 4:13
Evan Hoopfer                                                                                                                     
Staff Writer
Dallas Business Journal