Wednesday, Jun 1, 2022
Darr Equipment Now Serving South Texas
With the acquisition of S&L Liftmasters in 2020, Darr Equipment Company successfully extended their family-owned and long-running material handling equipment dealership into South Texas. S&L Liftmasters was a perfect fit for the Dallas-based Darr Equipment, since both companies have stellar reputations in the material handling industry in their respective areas, as well as both being family-run enterprises with decades of service in their communities.
With this acquisition, Darr extended its service territory into the South Texas market. Because both companies operated with similar tenets – to offer only the highest of standards of excellence – the merge was smooth and existing customers did not experience any disruption of the service they've come to know and depend on in San Antonio and surrounding areas.
Darr Equipment is offering the same level of quality material handling equipment and service in South Texas as the company has been known for in the North Texas and Oklahoma market for years.
Commitment to Satisfaction
Darr Equipment offers all the same material handling and distribution center warehouse needs as customers in South Texas are used to – and more. With equipment and services designed to answer challenges across many industries, Darr Equipment offers solutions to many different applications, including:
Distribution Center Warehouse
Construction
Shipping
Manufacturing
Agriculture
Dockyards
Recycling
Many more!
After more than 65 years of serving the industry, Darr Equipment has the experience to offer customer solutions that won't break the bank.
Industry Solutions
Darr Equipment carries everything from the humble pallet jack to container-lifting forklifts, from simple pallet racking to extensive mezzanine and conveyor systems. With experts in warehouse management and design ready to assist, customers in the South Texas area can call for help. With so many years in the field, there isn't much they haven't seen. That kind of experience and know-how comes from facing and overcoming industry challenges.
Along with new material handling equipment, Darr offers a wide variety of pre-owned equipment and rentals that meets the company's tough standards. Additionally, you can find warehouse solutions and safety training classes – available on site or at your facility.
The menu at Darr Equipment is extensive and designed to meet the needs of a variety of companies and industries.
Forklifts
Darr Equipment carries and services a multitude of forklift brands. Not all brands or equipment lines are available in all locations.
Cat – With more than 80 years in the material handling industry, Cat has a wide array of lift trucks and other equipment. The name Cat is synonymous with reliable and rugged.
UniCarriers – With Japanese quality and technology mixed with Swedish design, this brand of equipment has many years of experience designing ergonomic and reliable material handling equipment.
Clark – This full-line forklift American brand is well known as inventors of the forklift. These heart-of-the-line models are ideal for many applications.
Mitsubishi – These green trucks are known throughout the material handling industry as beacons of rugged reliability and green use.
Komatsu- Tough and rugged, this line of forklifts are known for productivity, durability and operator features that make them ideal for many different types of lifting jobs.
Kalmar – Designed to answer the most challenging of heavy-duty forklift usage, Kalmar is the answer when moving containers and cargo handling is involved.
Jungheinrich – With reliability and sophistication in its material handling designs, this brand is touted as a top choice in everything from industrial trucks to intralogistics systems.
Selleck – Experts in designing lift trucks and other equipment for rough terrain, this brand has a long history of reliability out in the toughest conditions.
HubTex – When customization is needed for those loads out of bounds for regular lift trucks, HubTex comes through to design specific-needs equipment.
LiftKing – When rugged meets rough, LiftKing provides the answer in lift trucks designed to meet the challenges of the toughest of conditions.
Darr Equipment is proud to have partnerships with some of the most recognized and reliable names in the material handling lift truck industry, but that's not all South Texas customers can expect. In addition to its wide variety of equipment, Darr offers much more.
Sweeping Solutions
It's no secret that commercial warehouses and office buildings get dirty. With doors opening all day – and sometimes all night – dust and dirt is going to come in. Fans and air-conditioning or heating blow this dirt around. With today's emphasis on employee safety, as well as innovative, but sensitive, equipment, it's important to keep things clean. As with its material handling partnerships, Darr has chosen Advance and Factory Cat to provide scrubbers and sweepers to its customers.
Advance – Like Darr Equipment, Advance has been around for many decades and carries innovative commercial and industrial floor cleaning solutions.
Factory Cat – In business since the 1980s, this company focuses on providing battery-charged floor cleaning solutions.
With solutions available to answer most floor cleaning challenges, Darr Equipment only offers trusted companies to its customers in South Texas.
Utility Vehicles
Taylor-Dunn is one of the most respected names in utility and passenger vehicles in the material handling world. Whether you need to move 8 people from one end of the warehouse to another, or take folks on a tour of the campus or just help a worker move equipment from one place to another, Taylor-Dunn has the products to answer every need.
Warehouse Solutions
Are you ready to take your warehouse to a whole new level of productivity and efficiency? With the launch of 54 Intralogistics – an arm of Darr Equipment that focuses on warehouse solutions – customers can find professional warehouse results in many locations across the U.S. At 54 Intralogistics, the focus is on finding the MaxOPs of your company's warehouse – the maximum operating potential.
Offering a free consultation, you can continue upgrading your warehouse piece by piece or go for a complete overhaul at one time. The choice is up to you.
Fleet Management
One of the most innovative changes to come down the material handling pipeline in recent years is a new way to maintain your fleet – a better way to get the most efficient usage out of your equipment, while earning a higher ROI and maximizing resources.
Customizing your fleet management helps reduce the cost of ownership while increasing the ROI. With the right fleet management system, decision makers can see:
Preventative maintenance schedules
Less downtime to equipment repair
Optimization in equipment usage
A reduction in damage and theft
Because fleet management is easy to customize, you can find the right fit for both your operations and your bank balance.
Safety Training
The professionals at Darr Equipment offer safety training because they sincerely want to see their customers using equipment in the safest possible way. The goal is to send everybody home safe after a shift. Training is available at the Darr facility or at your site. Training includes:
OSHA required operator training
Train the Trainer
Bottom line is that the decision makers at Darr Equipment want their customers to use any equipment they have as safely as possible in all the areas they serve.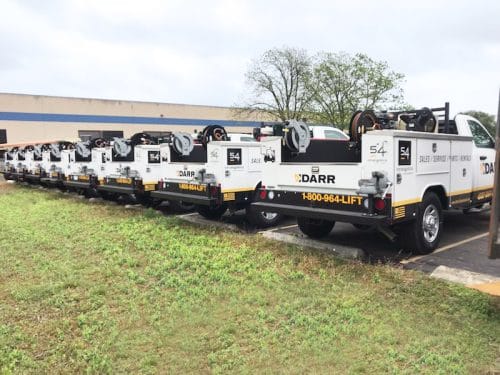 Now Serving South Texas
Darr Equipment customers in North Texas and Oklahoma are used to the exemplary service they find at Darr Equipment – and now customers in South Texas can take advantage of Darr Equipment's experience and professionalism when it comes to everything material handling. Reach out today to find out what Darr Equipment can do for your application.