Thursday, Mar 19, 2020
Follow These Tips for Successful Shipping When You Buy a Forklift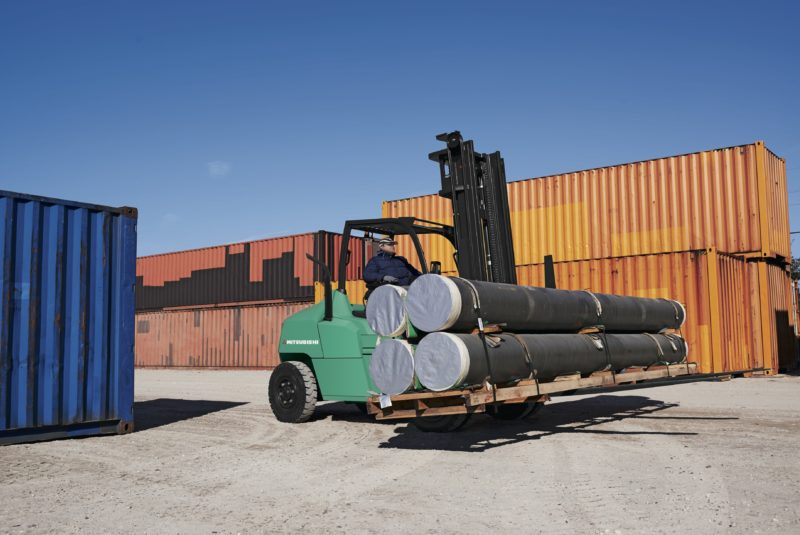 Purchasing a forklift is only one step in the process of adding to your fleet. Once you buy a forklift, you have to ship it to your location, and, sometimes, transport it from job site to job site. Doing so successfully takes some planning and knowledge about the best processes for getting your machine from one location to the next. Here is a look at some useful tips for more easily shipping or transporting a forklift.
[CUTOFF]
Know the weight of your forklift.

Forklifts do not all weigh the same. Some forklifts can weigh as little as 9,000 pounds (which is still much heavier than an automobile). The largest forklifts can weigh over 100,000 pounds.
The weight of your machine will affect how you transport it. For example, some roads have weight limits. The weight of your trailer and forklift must not exceed these weight limits, which means you need to know the weight of your machine, the weight of the trailer, and the weight restrictions on the road you will travel.
Trailers also have maximum capacity ratings. Heavier forklifts may require trailers with higher weight limits. Knowing the weight of your forklift can help you to find the right trailer and plan the right route to get your forklift where it needs to go.
Know the dimensions of your forklift.

The dimensions of a forklift can also affect how you ship it. For example, if you buy a forklift that is very tall, it may not fit easily onto a standard truck or trailer. Smaller forklifts may fit into a shipping container, which could add a layer of security for your machine.
Before you transport your forklift anywhere, make sure you know that its dimensions will work with the trailer or container you are using to transport it. By doing so, you will avoid troublesome issues and delays that could drive up shipping costs and put you behind schedule.
Obtain the proper vehicle for transporting the forklift.

Once you know the weight and dimensions of your forklift, you can find a vehicle that is appropriate for transporting it. You might choose a shipping container for a small forklift. You may need to locate a special trailer for a tall machine or for a heavy machine. You may want to use a flatbed. Whichever vehicle you choose, make sure that it works for your specific machine.
Secure the forklift appropriately.

Forklifts are large and heavy. Making sure that they do not move around or come loose during transport is an important step in successfully getting your machine to its new location
To that end, secure your forklift appropriately.
● Chock all of the tires.
● Create four anchor points around the forklift.
● Use chains to secure the forklift to the trailer bed. 
● Shut off or disconnect the fuel supply, including emptying the forklift of its fuel before transport.
Use a professional mover for your forklift's transportation.

Moving a forklift is a big undertaking. You may find it easier to hire a professional to do the work for you. Often, when you buy a forklift, the dealer will ship the forklift to you. At other times, as when you are moving the machine from one work site to another, you may benefit from professional services. These services can ensure that your forklift is loaded properly on the right vehicle and safely transported to the right location.
Consider shipping and transport costs when you buy a forklift.

When you purchase a forklift, it is easy to look at the price of the machine itself and decide that it is the most affordable option for your business. However, you will also want to consider shipping costs before you commit to the purchase. You may find that a local machine that costs more upfront may actually be less expensive overall than a cheaper forklift far away that you must pay to have shipped to you.
Consider using a local forklift dealer.

Since purchasing forklifts locally can save you money on shipping costs, you may want to consider using a local forklift dealer like Darr Equipment. Since the dealer is close to your location, you will pay less to have it sent to you after you buy it. That can mean that buying locally is less expensive than pursuing a forklift further away. As an added bonus, you are likely to get the forklift sooner than if you had to wait for it to be shipped from a remote location.
Consider renting a forklift for remote jobs.

When starting a new job, you may assume that shipping your forklift to your job site is the best decision. Often, that assumption is correct. Transporting your forklift from job site to job site often works well, as long as the job sites are close together.
However, shipping costs may make it cost prohibitive to use a forklift from your fleet for jobs that are further away. Instead, for remote jobs, consider renting a forklift.
Rental costs for a forklift can be significantly less than purchasing one. They can also be less than shipping costs. If you find that you have a remote job site, look into whether renting a machine might save you money.
Shipping forklifts requires forethought and planning. You need to know the weight and dimensions of your machine so you can find the right vehicle to transport it. You need to secure it carefully to the vehicle. Sometimes, you may find that shipping costs make it smarter to buy a forklift locally, or to rent a machine rather than ship it to a remote job site.
If you are looking to buy or rent a forklift, reach out to Darr Equipment. We offer a wide inventory, shipping services, and the option of renting so you can get the right forklift to the right location for the right price.