Friday, Jul 31, 2020
Know Your Forklift Parts: Picking the Right Mast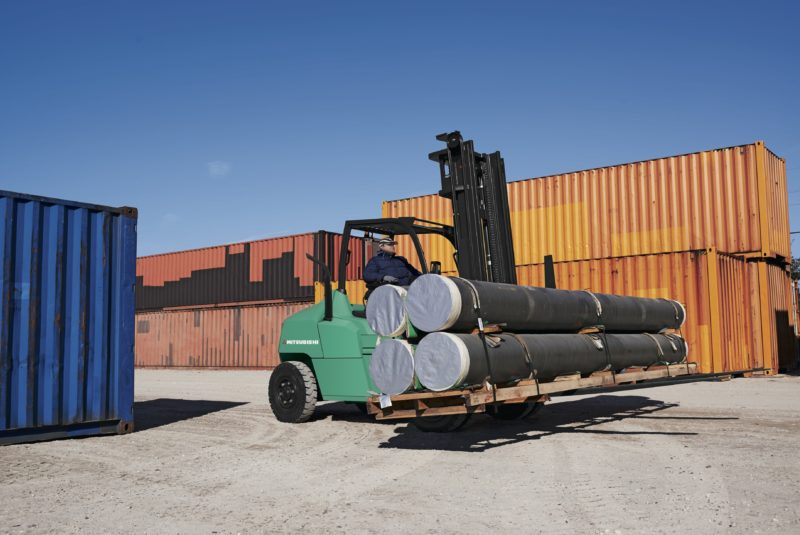 When selecting what type of forklift to buy, the mast is one of the most important forklift parts to consider. The forklift's mast is the portion of the truck that lifts, lowers, and positions loads that are being supported by the forks. Each type of mast has its own set of advantages and disadvantages for different applications depending on their height and stacking requirements. There are four main styles of forklift masts, and they are outlined below.
[CUTOFF]
Single Stage

The single stage mast has one channel with a limited lifting height. Free lift, which is the ability to lift the load and forks without moving the mast channels, is not available for this type of mast. Due to this limitation, the mast must extend higher than the other mast options so that you can stack loads. Single stage masts are often seen in outdoor applications where overhead clearance is not a concern due to a lack of height clearance restrictions.
Two Stage

The two stage forklift mast is more common and has free lift options available. This mast style is typically used for stacking and double stacking in indoor spaces with limited overhead clearance. Two stage masts provide excellent visibility and are ideal for use in trailers or box cars.
Three Stage

The three stage style is the most common and versatile forklift mast available. Its free lift capabilities and greater heights provided by three stages make for fantastic lift for stacking in general warehouse applications.
Quad Mast

A quad mast – or four stage mast – provides the highest reach because of its four sets of moving rails. These rails are designed to accommodate extremely high stacking in specialized warehousing and other specific industries.
Additional Considerations

When purchasing a forklift, there are some key variables regarding masts that you should consider before you buy. They are as follows:
Lowered Height – Each mast type has a different height when it is completely lowered, which is important to look at if your facilities have a particular height restriction for loading docks, doorways, and other entrances.
Load Backrest – Most forklifts come with a 48-inch load backrest, but other options are usually available. If your warehouse has lights, sprinklers, or any other items that can be damaged by lifting, sometimes you can submit special requests to the manufacturer to get a customized load backrest.
Lift Height – When selecting your mast, you should add a minimum of six inches of height to your highest racking shelf. This gives you an estimate of required lifting heights, including the necessary amount of clearance for operators to safely negotiate loads at height.
If you are in search of a new or used forklift, forklift parts, or even warehouse solutions, Darr Equipment is here for you. Our goal is to provide the industry's best equipment and services so that our customers recommend us, equipment operators prefer us, and our employees are proud to work for us. For more information, contact us today.