Monday, Apr 6, 2020
Four Free Months! New Forklift Leasing Program.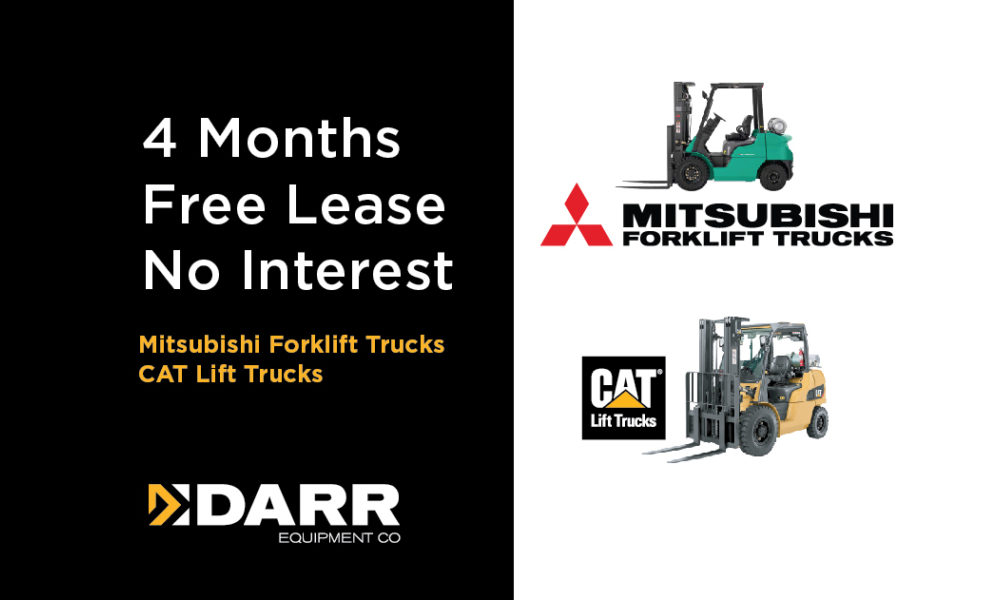 4 MONTHS FOR FREE, FORKLIFT LEASING PROGRAM 
Posted: APRIL 6, 2020 
As we all continue to navigate the latest unprecedented circumstances that we are operating in, we are pleased to announce our "Four for Free" financial merchandising promotion. Effective immediately, our customers can lease a new Cat lift truck or Mitsubishi forklift truck with no payments for the first four months of the lease term. Any interest that is incurred over this four-month time period is covered. 
We know that even when things are normal, investment in material handling equipment is a big decision; but things certainly are not normal right now, which makes things even more difficult. This leasing promotion will allow you to ease some of the cash flow burden that you are likely experiencing so you can invest the money that would have gone to forklift payments in other areas of your business.
Please see below for a few notes on eligibility and details of the program:
Eligible Models

Cat Lift Trucks: GP15N-GP35N / DP20N-DP35N and 2C3000-2C6500
Mitsubishi Forklift Trucks: FG15N-FG35N / FD20N-FD35N and FGC15N-FGC33N

New equipment only
This program can only be applied with standard lease terms (36, 48 and 60 month terms)
Subsidized interest rates apply (given compliance with standard subsidy program guidelines)
It must be noted that you would like to utilize "MCFA Four for Free" program when submitting credit approval to DLL

Documentation for the lease will show the extended term of the lease, with the first four months at ZERO payment, followed by the regular 36, 48 or 60 month term

Promotion is not to be used in conjunction with Large Deal Discounts without exception approval from MCFA Sales Management
If you have any questions regarding this program, please feel free to call 1-800-964-LIFT contact info@darrrequipment.com or your Regional Sales Manager.