Tuesday, Jan 10, 2023
Get on Track with Pallet Racks
Welcome to 2023! If you are like us, you always go into a new year with a refreshed outlook on personal and professional goals. Maybe you were not able to accomplish everything you planned for 2022, but now there's a chance to incorporate those unfinished goals into a new plan for 2023. The question is: Where to start?
If you are in the material handling and/or distribution and fulfillment center warehouse industry, it seems like cutting edge technology doesn't give us a second to catch our breath. As the industry continues to boom due to e-commerce, engineering wizards continue to come up with new and innovative ways to tackle our specific warehouse issues. And even though that is true for every aspect of getting the most out of your warehouse, one area has remained somewhat steady. Pallet racking!
Almost every material handling and DC warehouse depends on pallets and racking. But is your warehouse operation using pallet racking in the best way? Are you making the most of your available space with your combination of vertical and custom shelving? Do you know how to set your warehouse up for success? Your bottom line depends on the efficiency and accuracy of your systems – and how you rack and store for optimized picking is one of the most important tasks.
As is typical for inventions (necessity being the mother of), pallets and pallet racking systems were invented around the same time as the forklift in the early years of the 1900s. Once manufacturers came up with corrugated cardboard to ship their products in, somebody had to invent the forklift and pallets to move that stuff around since the heavier the box, the higher the labor costs. Since then, companies spend millions on warehousing and pallet racking takes up a fair amount of that cost. Are you incorporating the correct type of pallet racking for your company? Let's take a look at the ways the right pallet racking system will help you maximize your warehouse operations.
What Are Pallet Racking Systems?
Pallet racking systems come in a large variety of shapes and sizes and can also be customized. In a nutshell, a pallet racking system stores pallets loaded with product. So, the type of pallet racking that will work best for you is determined by individual factors that influence your material handling and DC warehouse operations. Some of those factors include:
What type of product does your warehouse handle? Do you handle items that have an expiration date? Does your product storage consist of bulky, oddly-shaped items? Do you need to have flexibility for a changing assortment of items?
How much is your budget for pallet racking?
What are the specifications of your warehouse? Do you have available vertical space? What is the condition of your floors?
These are just a few of the questions you need to answer to understand what type of pallet racking is right for you. Sometimes it's best to have an expert take a look at your existing facility and its current use to help get the answers.
How Much Do Pallet Racking Systems Cost?
As with most things in the material handling and DC warehouse industry, the cost is determined by a myriad of factors, including how much pallet racking you need, what type of pallet racking you need, what your racks are made of and whether or not you buy new or used and if you outright buy your system or lease.
Most experts seem to agree that the cost for new will fall somewhere between $50 per pallet position for the most common system all the way up to $500 per position for a flow rack system.
Used systems cost far less and, in many cases, can be found in good condition.
Figuring out a rough number of how much you have to spend will go a long way to helping you – and your professional adviser – find the best option for you.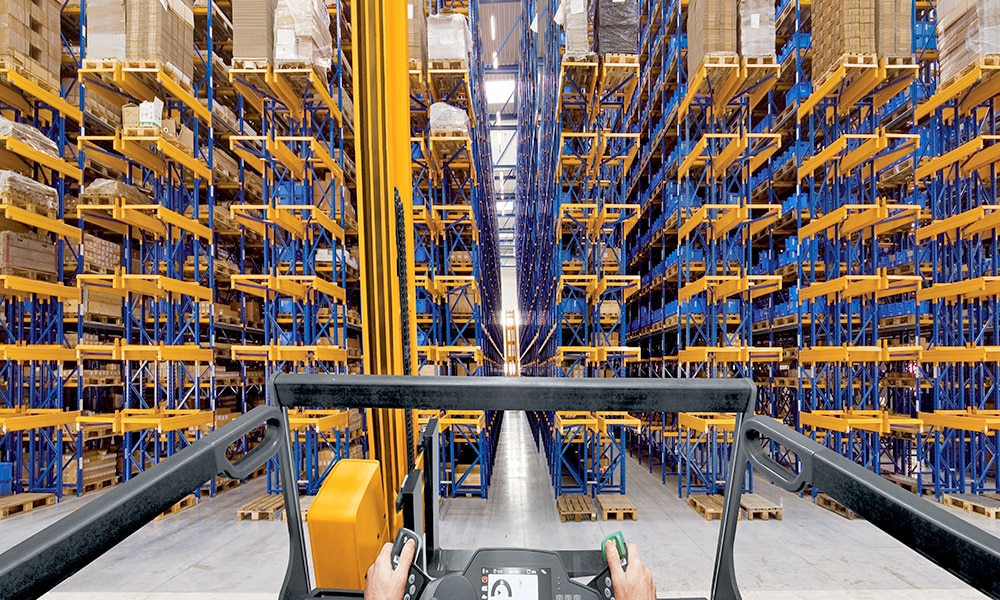 What is the Best Pallet Racking System?
We've talked about warehouse intralogistics before – and when it comes to choosing the best pallet racking system, it's the one that is going to optimize the flow of goods into and through your DC and fulfillment center warehouse. This is one of the core pillars of warehouse intralogistics and maximizing your warehouse operations.
So, let's take a quick look at the different systems and a few pros and cons of each one.
Selective: The most common type, it's called selective because forklift operators can pick – or select – any pallet without disturbing others. It works well in operations with low turnover and multiple SKUs.
Pros: Probably the cheapest option and lends itself to easy change
Cons: Low density storage and vertical limitations
Pallet Flow: As the name suggests, these make use of gravity and inclined racks to store – and move – product. It works well in high-volume applications where product needs to move quickly and steadily, such as food and beverage.
Pros: Easy access to inventory through seamless flow-based retrieval and efficient storage option for perishables
Cons: High cost and ongoing maintenance required
Drive-In: With one way in and the same way out, this system can be helpful in situations where space is needed for high-density storage of similar items. This is a good narrow aisle solution for storing fragile items.
Pros: Makes good use of available space and is a more affordable option
Cons: Doesn't work well with a wide assortment of pallet shapes and sizes
Cantilever: Lumber? Carpet? This is the option when storage is required for non-palletized and awkwardly-shaped items.
Pros: The answer to how to handle items that don't fit on standard racks
Cons: Can be expensive and may require more space
So, what is your warehouse storing today? That answer may be the driver when you are looking at pallet racking and which one is best. In the end, you'll get the most out of your warehouse by making the right decisions across the board. And that takes into account every system from the ground up.
Find Your Affordable Warehouse Pallet Racking Solution Today
If you are going into the new year working on a new plan for maximizing your warehouse potential, we've got some answers for you. We're happy to help you start off right with a free consultation with a warehouse professional. Finding the right pallet racking option for your material handling and DC and fulfillment center warehouse is a great place to start. Contact us today!