Monday, Aug 31, 2020
Important Factors to Consider When Planning Forklift Maintenance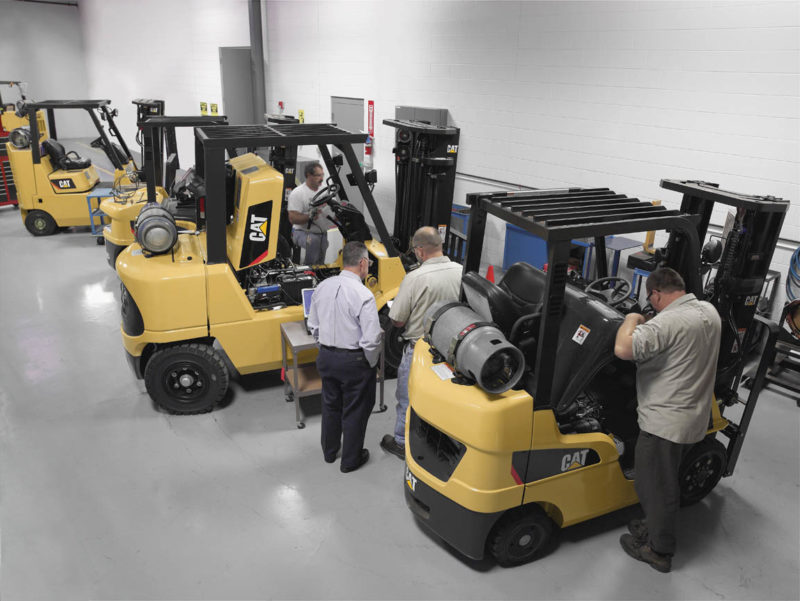 As a warehouse manager, you probably know that any disruption to the daily workflow is a large inconvenience and could have a serious financial impact on your business. This is why it is critical that you regularly maintain and service every piece of machinery you own. Forklifts in particular are very important for facilitating everyday heavy lifting that exists in a warehouse environment, making them an especially important piece of equipment. While many companies do understand the importance of forklift maintenance, they are not always sure how often it should be performed. Read on as we discuss some guidelines to determine how to best plan your fleet's maintenance schedule and some key maintenance tasks that should be performed.
[CUTOFF]
The Age of The Fleet
The age of your forklift fleet plays a large part in determining a good maintenance schedule. The industry standard for maintenance is usually between 200 and 250 hours of operation. It is also important to note that this timeframe gets smaller with every year that passes. Once your fleet begins experiencing issues between forklift maintenance periods, you should start looking for new units.
The Amount of Forklifts

The number of forklifts in your fleet also affects your maintenance requirements. Companies that own many forklifts typically have a backup in the event that one of their lift trucks breaks down. A bigger fleet also means that you have the option of alternating units so that one specific forklift is not the only one being used. Warehouses with only a few forklifts tend to push them to the limits and are simply out of luck if one breaks down. By scheduling regular maintenance, you can greatly reduce the risk of this occurring and interrupting your usual business operations.
Lifts with Attachments

The more complex your forklift is, the more often it should be serviced. Forklift attachments put a decent amount of strain on the transmission and cooling system of a lift truck, and they have more parts that can potentially break down. In addition, forklift attachments typically serve a very specific purpose, and having a breakdown can cause that entire aspect of your business to temporarily shut down. Replacement parts for attachments are very specialized and have a higher chance of being out of stock. If one of your specialized units breaks down, you might be out of commission for longer than you expect. By increasing how often you do maintenance, the more likely it is that your equipment will remain up and running.
The Operating Environment

Forklifts that are used in extreme environments (such as very cold, hot, or dirty ones) are more likely to break down. Extreme conditions can put significantly more stress on your forklift. Unless you work in a clean, temperature-controlled environment, like inside of a warehouse, you should schedule forklift maintenance more frequently.
Seasonal Business

Not keeping up with a regular maintenance schedule can prove to be especially devastating during seasonal increases in business. Because seasonal businesses have a smaller window to generate their revenue, there is not much time to deal with a unit breaking down. Seasonal businesses should aim to have their forklifts serviced before their busy season and throughout their off season for optimal performance.
Electric Forklifts

Electric forklifts are unique in that they do not have an engine. Unfortunately, this leads to the common misconception that they do not require much maintenance. However, electric units need to be monitored regularly for issues like a weak battery. Over time, batteries degrade, which means that they will not be able to hold a charge as long as they used to be able to. Battery degradation can also cause forklifts to not start at all. With regular maintenance, you can prevent these problems.
Key Maintenance Tasks

Below are the some of the main tasks that are involved with regular maintenance.
Change your oil regularly: Just like any vehicle, you should change the oil in your forklift regularly. To increase fuel efficiency, be sure to change the oil at least once every 90 days. This helps to maximize performance and to avoid combustion problems as well.
Clean the forklift battery: If you have an electric forklift, cleaning the top of the battery at least once a month can help to prevent buildup, which can cause corrosion and faster self-discharge.
Check the tires: To minimize the risk of potential damage to your forklift, check the tire pressure and the overall condition of your tires at least once a week. Tires should not be over- or under-inflated.
Check your brakes: Check your brakes often, as this will allow you to identify any problems that need to be addressed immediately. If you find any issues with your brakes, be sure to hire a lift mechanic to properly service your truck.
Forklifts are a crucial piece of equipment in any warehouse facility. Ensuring that all of your machinery is well taken care of and properly maintained will extend the lift of your fleet, making preventative maintenance of utmost importance. For all of your fleet management needs, Darr Equipment is here for you. We offer everything from preventative maintenance to damage monitoring to equipment usage reporting and more. Contact us today to learn more.