Thursday, Mar 26, 2020
Industrial Sweepers and Scrubbers: The Right Machine for Your Warehouse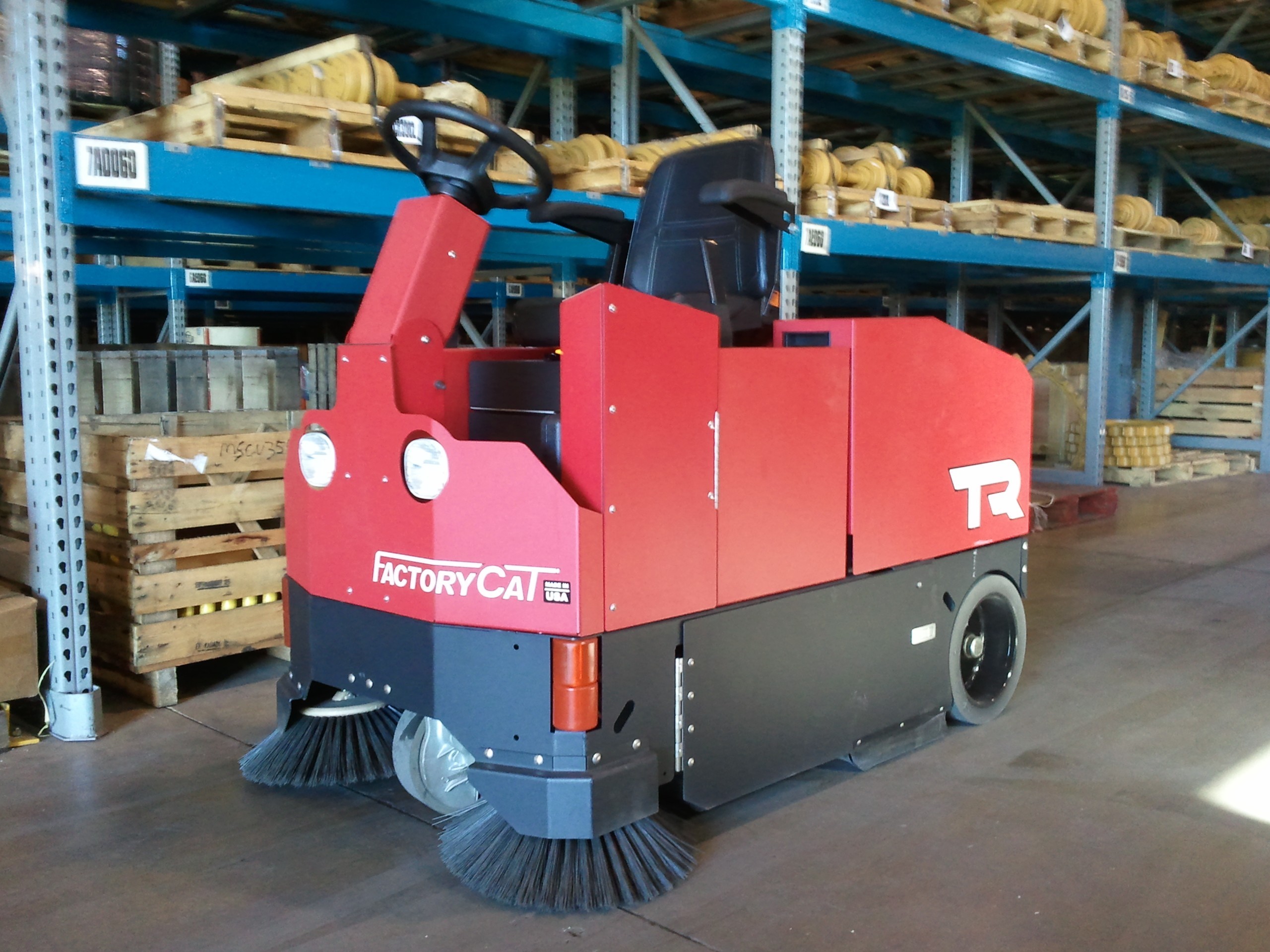 When picking between the many industrial sweepers and scrubbers available on the market, it is highly important that you know what each piece of equipment does. Read further to learn about the details associated with each type of industrial cleaning machine and how to pick which one is best for you to use in your warehouse.
[CUTOFF]
Push Floor Scrubbers

Also known as "walk behind" floor scrubbers, these machines are meant to replace the typical mop and bucket method. Push floor scrubbers can actually increase productivity by reducing worker fatigue. Instead of the cleaning staff having to bend and mop, they can remain upright and are able to cover a lot more area than manual cleaning would allow them to. Generally, push floor scrubbers are less costly than ride-on scrubbers.  
Ride-on Floor Scrubbers

Ride-on models offer the same benefits of push floor scrubbers, but they excel in one thing: efficiency. According to CleanLink, cleaning can be done up to 60% faster with a riding machine because it reduces the amount of pushing that an operator has to do. Although this machine is undoubtedly efficient, it does cost more than a push floor scrubber. However, research shows that the initial up-front cost of a ride-on floor scrubber can be mitigated in as little as three months.
Touchless Cleaning Machines

Touchless machines are meant to be used without the assistance of an operator. They clean using cold water to scrub and dry spaces, which allows for a quicker drying time. The quicker drying time is also beneficial for preventing the spread of germs, meaning you get a more sanitary result.
Sweepers

Sweepers can double as carpet extractors, lifting dirt from short carpet surfaces to clean the area. Because sweepers can be used on both carpet and hard flooring, investing in one could prove to be cost-effective and extremely beneficial for the productivity of your warehouse staff.
Floor Buffers

These machines are technically part of the floor scrubber family. However, they are geared specifically towards floors made of linoleum (which is a flooring material that is often, but not always, compatible with other modern floor scrubbers). This piece of equipment acts to polish your floors until they shine like new.
How to Determine What is Right for Your Warehouse

Since industrial cleaning equipment does come at a steep price, it is considered a major investment and should not be taken lightly. When picking which machine will work best for your warehouse, be sure to keep the following in mind:
Surface Type

When choosing which automatic floor scrubber makes the most sense for your business, you must take into account the kind of material your floor is made of. There are many different types of brushes that can be used in conjunction with your floor scrubbers. For example, scrubbers that come with disc-shaped brushes should be used in places like parking areas, where stubborn floor stains (oil, tire marks, etc.) are common.
If your floor is concrete, be sure to pick a stiff-bristled brush so that it can scour the floor's surface effectively. In addition, it is smart to steer clear of metallic brushes, as these can leave fibers on your concrete that will eventually rust.
If you find that your floor has an uneven surface, opt for a floor scrubber that has a cylindrical brush. This eliminates the need to sweep prior to scrubbing and can even entirely remove the need to purchase an additional machine made solely for sweeping, which ultimately saves you money.
Surface Area

Just as you must consider the material of your warehouse flooring, you must also think about the amount of space you have to clean. When deciding on which machine to purchase, it is important to keep the size of your machine congruent with the amount of surface area your floor has. For instance, if you have narrow walkways and not a lot of wide-open space, a bulky machine may not be a great choice for your business.
Additionally, the level of cleaning power your equipment provides should also fit the needs of the floor space. For example, using a cleaning machine that is meant for home use (as opposed to industrial use) may result in a shorter lifespan of said equipment due to overuse. This can negatively impact your budget when it comes to repairing and replacing the machine.
When it comes to purchasing industrial sweepers and scrubbers, it is highly important that you understand that compatibility trumps price. Although an important consideration, low up-front costs do not always translate to long-term savings. Ensure that you are considering all of the options available and choosing the best one based on your warehouse's floor type and surface area. If you are interested in buying or renting industrial equipment, contact us today at Darr Equipment. We are proud to represent quality brands and products that are typically in stock and ready for immediate delivery when you need them.