Tuesday, Nov 15, 2022
Manager's Pick Product Review: Jungheinrich Class 2 Electric Narrow Aisle Forklifts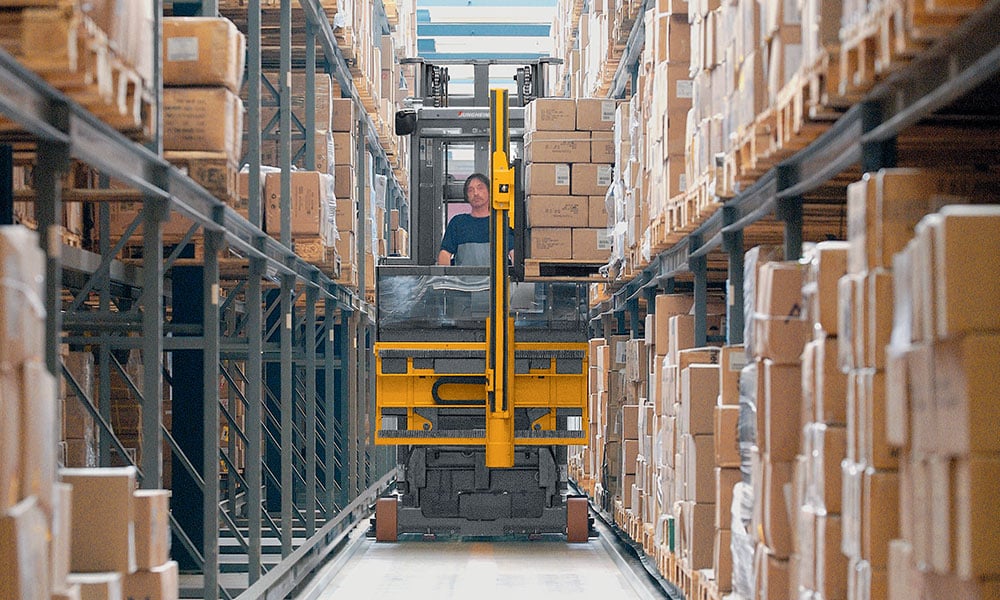 Is anybody in the material handling and distribution center warehouse industry looking for a brand new forklift under the tree this holiday season? Are you busy making your "wish list" for new (or new-to-you) material handling equipment for the new year's budget? Let's take a look at one of the options that made the manager's list for equipment that boosts efficiency and productivity in your operations.
This year, we are looking at the Jungheinrich Class 2, or electric motor narrow aisle trucks, as the machine we want to see with a big bow on it this holiday season! Once you've taken the necessary steps to find your warehouse maximum operating potential, what we call MaxOP, you are no doubt utilizing narrow aisles. After all, taking material handling and Distribution Center warehouse space to its highest possible use means taking advantage of all available answers, including narrow aisle solutions. The Jungheinrich Class 2 forklift is designed to help you optimize your narrow aisle warehouse space.
Let's get started!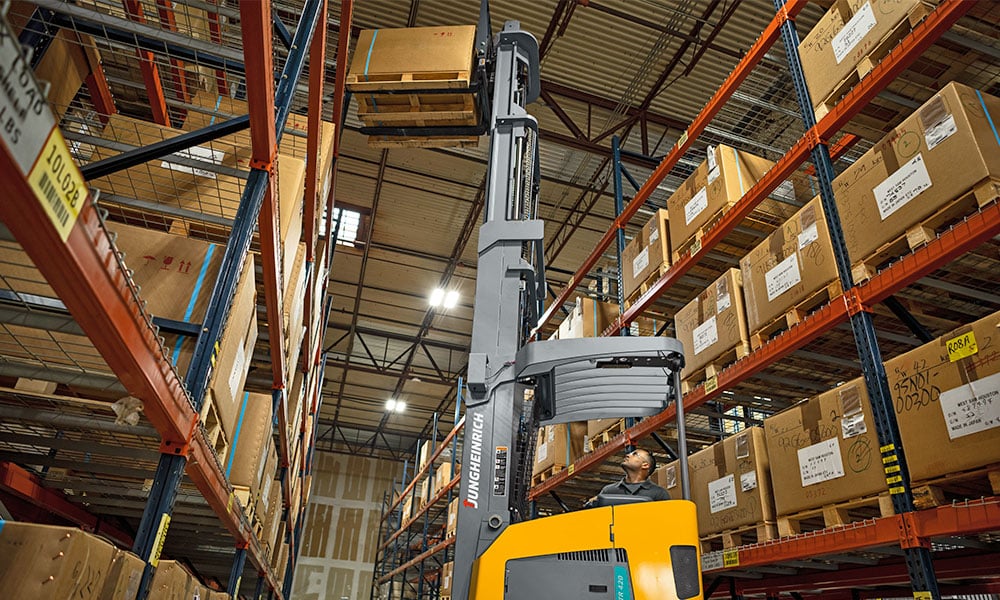 What is Warehouse Narrow Aisle Optimization?
With the growth in e-commerce came a need for many material handling and DC warehouse companies to find more space to store products and goods. At the same time, it seems, property values shot up all around the country, so not only was it more expensive to purchase or lease new warehouse space, in many cases, it simply wasn't available even if we could afford it. With that new reality in the fulfillment center industry, we began casting about for new ways to make use of available storage. In many cases, this meant going vertical and reducing the sizes of aisles to maximize the space we had.
In so doing, those in the material handling world started incorporating new ways to organize the warehouse, including:
Innovative floor and racking storage
Racking in single or multi-position systems
Narrow aisle specific equipment, including pickers, stackers and more
These solutions are meant to allow us to utilize vertical space, create new space and lift throughput to new levels. Much of this can be accomplished without a huge initial investment and the ROI can be phenomenal.
How Jungheinrich Class 2 Can Help
A leading company in the intralogistics industry, Jungheinrich has been innovating solutions for material handling warehouses since 1953. Besides designing equipment and services to help give your company the competitive edge, Jungheinrich is the supplier of some great narrow aisle solutions.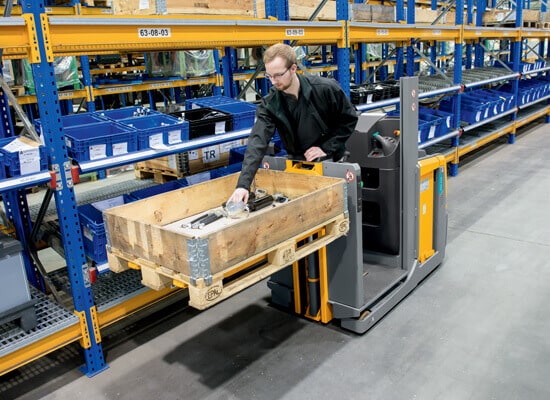 Small Parts Order Picker
The Jungheinrich small parts order picker is the perfect stocking stuffer for those who need something a little less hefty. With a reach height of 17'4" and a generous work platform, this equipment is great for picking smaller parts and boxes, as well as helping with inventory and light maintenance tasks, such as changing light bulbs. It can be driven while extended, allowing an employee to move seamlessly around the warehouse for quicker operations. The small parts order picker has a chassis that's 30" wide, perfect for narrow aisle work.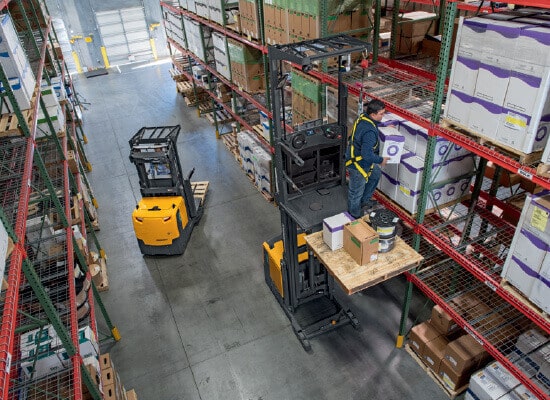 High Level Order Pickers
With a capacity for 2,200-3,000 lbs, the Jungheinrich high level order pickers have a three-stage mast and can reach over 45'. With semi-automatic vertical and horizontal positioning for more accurate picking operations, this equipment improves efficiency and productivity with less errors and faster application.
Electric Man-Down Turret Truck
Capable of handling 2,200-2,750 lbs, the Jungheinrich electric man-down turret truck is specific for use in very narrow aisle (VNA) operations. The only lift of its kind in North America, it lifts up to 23' and integrates easily in a wire or rail guidance system. With automatic vertical and horizontal positioning, operators increase productivity while decreasing errors. Designed to run for two shifts, the ROI comes from its efficiency and easy operations.
Electric High-Rack Turret Truck and Order Picker
This 48-volt truck with a capacity for 2,200-2,600 lbs is hefty enough to handle stocking and picking your pallets at lift heights of up to 30'. With a powerful amount of boost, this Jungheinrich truck allows operators to lift and lower the main and auxiliary masts at the same time, increasing productivity by decreasing time between stops.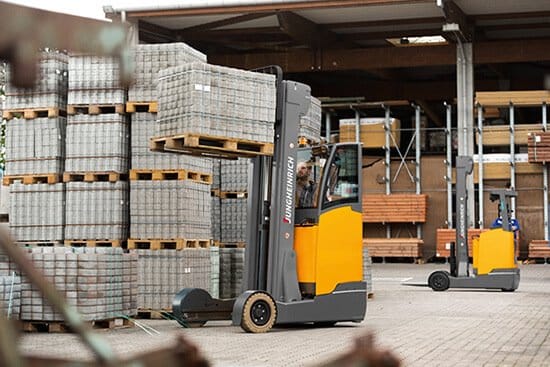 Electric Sit-Down Moving Mast Reach Trucks
Designed to increase efficiency in high-lifting, narrow-aisle operations, the Jungheinrich mast reach trucks are available in models with capacities up to 3,500 lbs. You'll be able to use these beasts for two shifts, since they self-charge during braking. With its well-known sturdiness and smooth operations, this equipment stands up to heavy pallet loads and tricky narrow-aisle racking.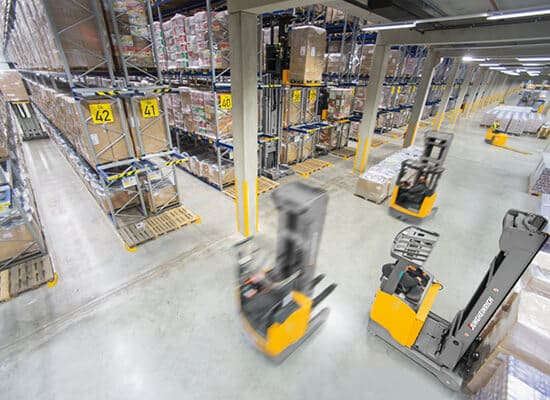 Multi-Purpose Moving Mast Reach Truck
Whether your working conditions are a smooth concrete floor or outside on a rougher surface, these Jungheinrich multi-purpose moving mast reach truck options with pneumatic tires have a capacity from 3,500 lbs to 5,500 lbs. With a side-facing seat that promotes better visibility, there are plenty of ergonomic and safety features in this piece of equipment that's designed to handle it all. Able to reach heights of 35', as well as maneuver in aisles as narrow as 4'. With innovative energy features, such as regenerative braking, you won't be running out of power anytime soon.
The Jungheinrich Narrow Aisle Solution
Now that you've designed and committed to a narrow aisle material handling and DC warehouse operation, you'll want to take a look at the Jungheinrich electric narrow aisle line of solutions. Besides offering powerful equipment for most budgets, Jungheinrich is a leader in the industry.
Jungheinrich narrow aisle solutions, as well as many of their other products, are designed to seamlessly integrate with most warehouse management systems, as well as being easily optimized for automatic operations. Jungheinrich has stayed current with new and innovative trends in intralogistics, using RFID, wire and rail guidance, and many more customizable solutions.
Their equipment puts an emphasis on ergonomics and safety features, such as:
Adjustable 3-way full-suspension cushioned seats
Intuitive and easily visible controls
Travel speed controls
Patented curve control for stability
Plus, their regenerative braking system keeps this electric equipment running for longer, they come with advanced AC technology and an innovative service tool that allows technicians easy access.
Find Affordable Warehouse Solutions Online Today
At Darr Equipment along with our sister company, 54 Intralogistics, we're excited to offer the best material handling, DC and fulfillment center warehouse solutions. We are proud to partner with Jungheinrich to bring you this year's manager's pick in best-in-class solutions. Looking for customizable answers to your challenges? We are here and ready to help. Contact us today!