Thursday, Dec 6, 2018
Money-Saving Advantages of Equipment Rental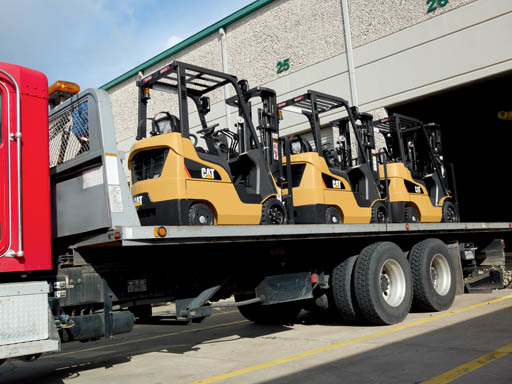 When you need an additional piece of material handling equipment for your business, you typically have two choices: purchase the equipment (either new or used) or rent the machine you need. While owning the equipment has its advantages, like always having access to the machine, renting is usually the most cost-effective solution for equipment you are only going to use occasionally. Here are some of the biggest ways equipment rental can save you money.
[CUTOFF]
Upfront costs
Perhaps the biggest money-saving advantage of equipment rental is not paying the same upfront costs as you do when purchasing a machine outright. For example, lift trucks cost thousands of dollars to buy. Renting the same machine can cost much less and make it possible for businesses with tighter cash flows to afford the equipment they need to take on certain jobs, or expand their companies' offerings.
Of course, the benefit of paying less upfront wears off the more you use the machine, while the rental fees increase over time. A general rule of thumb is that the cost of ownership is usually less than the cost of renting when you use the equipment 60 to 70 percent of the time or more. However, for machinery you only need occasionally or for specific projects, paying the smaller rental fee is usually worth it over spending the larger amount to buy the equipment.
Maintenance and repair costs
In addition to saving you money on upfront expenses, equipment rental can also save you money on maintenance and repair. When you purchase equipment, you become responsible for the maintenance and repair of the machine. This means that you are responsible for paying for all the servicing that the equipment requires over its lifetime. Choosing not to implement this servicing is rarely an option, as it is necessary for the safe operation of the machinery and delaying maintenance could lead to larger and more costly problems.
On the other hand, a rental agreement includes the maintenance and repair costs for the machine. This means that the rental company ensures that the equipment is inspected, maintained, and repaired. They keep up the necessary paperwork to prove that proper upkeep is performed on the machine. All you do is order the equipment, use it, and return it without extra expenses added to its use.

Storage costs
When you own equipment, you are responsible for the costs of storing it out of the weather. This requires renting or purchasing space, and is often expensive. Some equipment comes with significant storage needs, such as space or charging stations that can increase the costs of storage.
Equipment rental, however, can save you money because you don't have to worry about storage costs. You simply request the machine when you need it and send it back to the leasing company when you are finished. The leasing company takes over the responsibility and expense of storing the equipment safely.

Tax advantages
Both purchased and rented equipment can be used to your advantage on taxes. However, owned equipment must be depreciated on a certain schedule. Rental costs, on the other hand, can often be deducted in full. While you should always consult a tax professional about how to claim deductions and deal with things like rented equipment, chances are that equipment rental will be more advantageous come tax season than owning your equipment outright.
Timely delivery and pick up prevents lost money from delays.
If you face delays with the delivery or pick up of your equipment, you may face lost time and money. In worst case scenarios, you could lose out on a job if you cannot deliver the right equipment on time.
Equipment rental can help you to avoid these problems by ensuring the reliable delivery and pickup of your material handling equipment. The rental company delivers the machine when you request it and then picks it up on time. The result is timely jobs that save you on lost time, wages, and other expenses.
Equipment rental can be a cost-effective option. An experienced dealer, like Darr, can help you to find high quality rentals that can fulfill your business needs while allowing you to operate within your budget. Contact us today to find out how.