Friday, May 20, 2022
Putting the Emphasis on Forklift Safety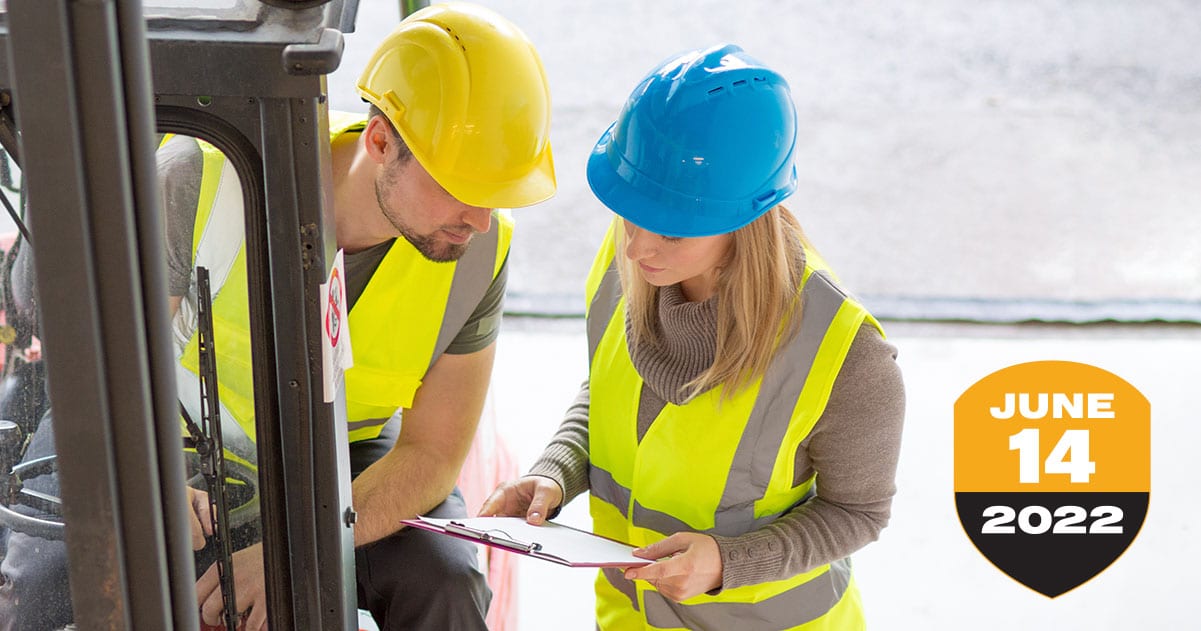 For the ninth year in a row, the International Truck Association (ITA) will mark National Forklift Safety Day. This year, the event will be on June 14 – in person at the National Press Club in Washington, DC and virtually. Many of those in the material handling industry will be marking the important date, as well. Forklift safety has to be of primary importance to the operations of all material handling and distribution center warehouses. If we aren't part of the solution of improving safety in all of our equipment applications, then we are part of the problem.
Grim Safety Statistics
As part of the US Department of Labor, the Occupational Safety and Health Administration (OSHA) is the governmental agency in charge of setting safety standards and laws for all industries that employ forklifts.
The ITA estimates there are roughly 856,000 forklifts in the US and OSHA puts the number of forklift fatalities in any given year at around 85, the number of serious injuries at 35,000 and non-serious injuries at 62,000. That works out to 11 percent of all forklifts will be involved in at least one type of accident in a year.
Most forklift accidents can be attributed to crushing when a forklift rolls over, crushing when a worker gets in between two pieces of equipment and struck or run over by a forklift. With today's improved forklift training, as well as new forklift safety features, forklift fatalities and injuries may one day be a thing of the past.
The overarching goal of every material handling and DC warehouse should be no forklift injuries or fatalities at all. When companies put their workers' safety first and everyone goes home at the end of their shift, success in safety is achieved. According to OSHA, proper training is the number one way to improve forklift safety.
Let's talk about the requirements of forklift operator training.
OSHA Approved Forklift Operator Training
First and foremost, approved forklift training is not only the best solution – it's the law. You wouldn't put someone behind the wheel of your car who had never driven before and just walk away, expecting them to innately understand how it all works.
It's the same for forklifts – and all heavy equipment. Showing someone the "on" button and chatting about a few rules concerning pedestrians or showing a video isn't going to cut it in today's bustling e-commerce warehouse situations.
OSHA requires three parts to forklift operator training: classroom instruction, hands-on and evaluation. With today's technology, many students learning OSHA-approved forklift operator training can complete the lecture portion online and then take their hands-on and evaluation portions at approved sites. Others would rather knock out the whole training in one place in about 8 hours with approved instructors on-site or at the facilitator site.
During the training, attendees will learn important safety information about operating a forklift in a variety of scenarios. Most programs include a variety of training that focuses on:
Forklift Safety
Visibility requirements
Learning how to safely operate a forklift, including mastering the controls and steering
How to inspect a forklift inside and out
Learning about vehicle capacity and how to remain stable
Safely stacking, unstacking and moving items
It's important to note that OSHA requires most trainees to do hands-on training on the same model or piece of equipment they will be working with in their job. After a trainee has learned the basics of forklift operation, an approved evaluator must test their skills.
How to Promote Forklift Safety After the Training
Once your employee has successfully completed their OSHA-compliant forklift training, it's OK to just let them go to work and forklift away, right? Not so fast! Just like with the car and driver analogy, after a new driver has received their driver's license, there's still a lot to learn. Because we all want the same thing – no more forklift accidents – we should all agree that continued training and consistent monitoring of anyone who is operating a forklift is key.
As part of OSHA's requirements, forklift operators must complete a recertification every three years or if they are involved in an unsafe forklift event. But even aside from that, there are ways material handling and DC warehouse managers can ensure safety is the first priority. Here are some ideas:
Give new forklift operators the opportunity to "shadow" an experienced driver for as long as necessary.
Always use a forklift inspection checklist prior to use. Be sure and check for any issues with fluids, tires, chains and masts.
Have regular safety meetings.
Make it easy and safe for employees to report dangerous behavior they observe.
Always wear a seatbelt.
Use the horn when traveling through warehouse intersections.
There are plenty of other ways to make sure your forklifts are being operated safely. Can you think of any? If so, add them to the list!
Does Forklift Safety Training Work?
Yes! Statistics from the National Safety Council  show that there were 78 fatal accidents involving forklifts and 7,290 nonfatal forklift events in 2020. In 2019, there were a reported 79 deaths and 8,140 nonfatal injuries. Although fatalities only decreased by one, injuries decreased by 850.
The facts illustrate that forklift safety training and consistent monitoring should be the number one priority of any business.
According to OSHA, manufacturing and construction are the number one industries where forklift fatalities occur. Material handling warehousing companies should take that as a sign that improvement in the field of forklift safety in their industry is working!
Get Affordable and Fast Operator Forklift Training Today
At Darr Equipment, we have a vested interest in the safety of all of our material handling partners. That's why we offer OSHA-compliant forklift operator training and train-the-trainer at our location or yours.
If you have any questions or would like to find out more about our safety training programs, contact us today!