Friday, Feb 10, 2023
Our Heart of Line Forklifts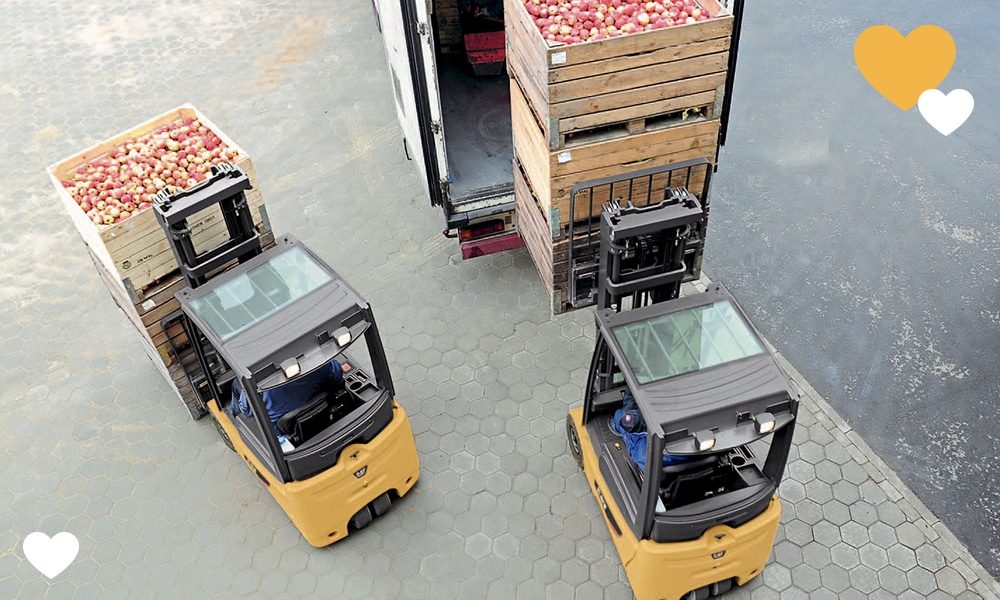 With Valentine's Day fast approaching, it's only appropriate that we introduce you to our "heart of line" forklifts. To us, our heart of line material handling forklifts include the products that we stand behind – and beside. We've been around the material handling and distribution center warehouse industry for a minute – actually more than 65 years of minutes to be more exact. And in that time, we've come to know a few things about the industry equipment that we handle – and some that we don't handle. But our customers understand that we won't be partnering with any company that we don't proudly support. So, without further ado, here are the lines of equipment that have our hearts – now that's a Valentine's Day gift!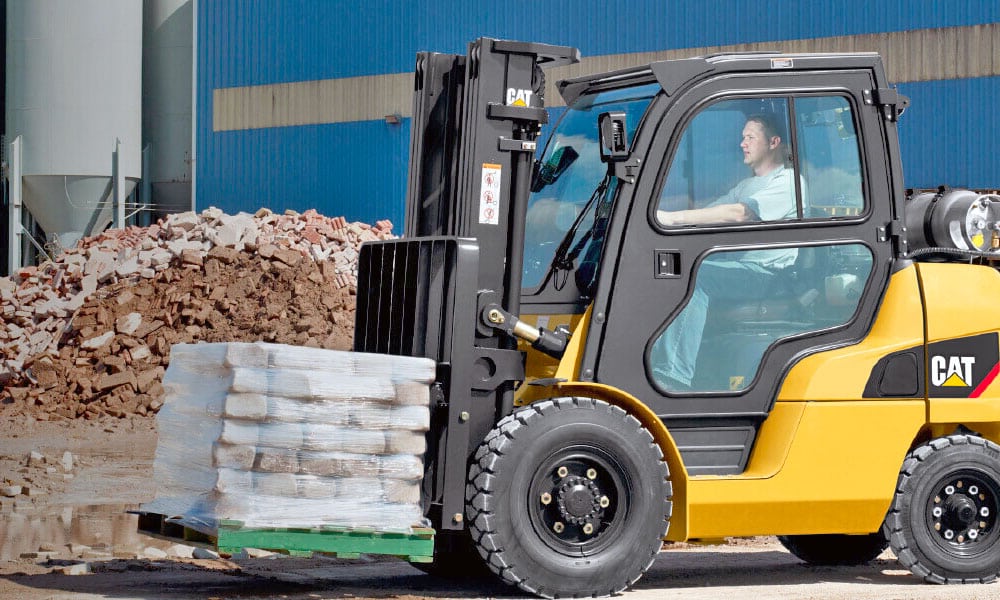 Mitsubishi Caterpillar Forklift America
Based in Houston, Mitsubishi Caterpillar Forklift America (MCFA) is the leading manufacturer and distributor of one of our favorite forklift brands, CAT lift trucks. In 1992, heavy-hitters Mitsubishi and Caterpillar joined forces, which resulted in the powerhouse known as MCFA. MCFA puts out three brands: Mitsubishi, CAT and another of our favorites, Junheinrich (more on that later).
CAT lift trucks have a long and storied history. The company has been manufacturing top-of-the-line forklifts since a man named Lester Sears in Cleveland decided to adapt a farm tractor to handle industrial tasks more than 80 years ago. Turns out he was a pretty smart guy, since many of his adaptations are still in use today in the material handling forklift business. Caterpillar acquired Sears' company in 1965 and they've never looked back.
The CAT name is synonymous with quality material handling products. If you're looking for an internal combustion or electric forklift, there's one in the CAT line with your name on it.
Applications: Manufacturing, distribution, warehousing, material handling, food and beverage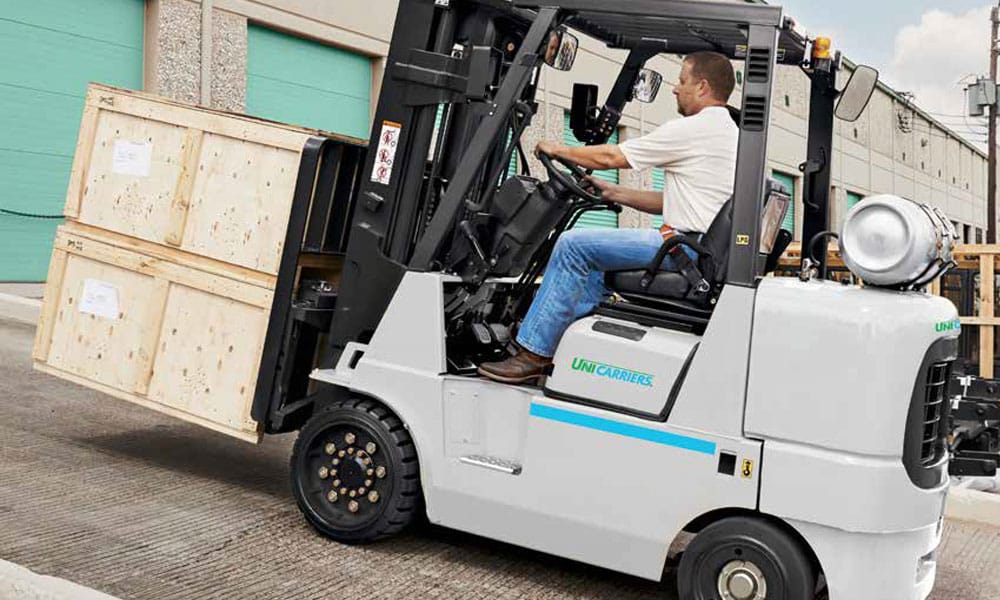 UniCarriers
The name UniCarriers may not have the same length of history as we do, but the material handling forklifts they manufacture have been around long enough to be proven. With the heritage of Nissan, this forklift line started in 1957 in Japan. In 2012, Nissan forklifts joined forces with Unicarriers Group and rebranded the forklift line in 2015 to UniCarriers. Under the umbrella of Mitsubishi Logisnext, these forklifts have a long history of quality and excellence.
Whether you need an IC or electric forklift, UniCarriers incorporates the latest in innovation and technology to bring you a material handling machine that provides the best ROI.
Applications: Distribution, manufacturing, retail stores, food and beverage, freight and logistics
Mitsubishi
We've already mentioned Mitsubishi a few times (and we'll be doing it some more, too). This dynamic conglomerate has its own line of material handling forklifts. The distinctive green equipment has been in production for more than 25 years, but more than that, carries the Mitsubishi promise of quality workmanship, reliability and incorporation of the latest in safety and technology.
Whether you need a heavy-duty, rugged IC forklift ready to handle up to 10 tonnes (metric) or a smaller, more agile electric narrow aisle model, Mitsubishi is known for being at the forefront of material handling equipment.
Applications: Material Handling, food and beverage, warehousing, retail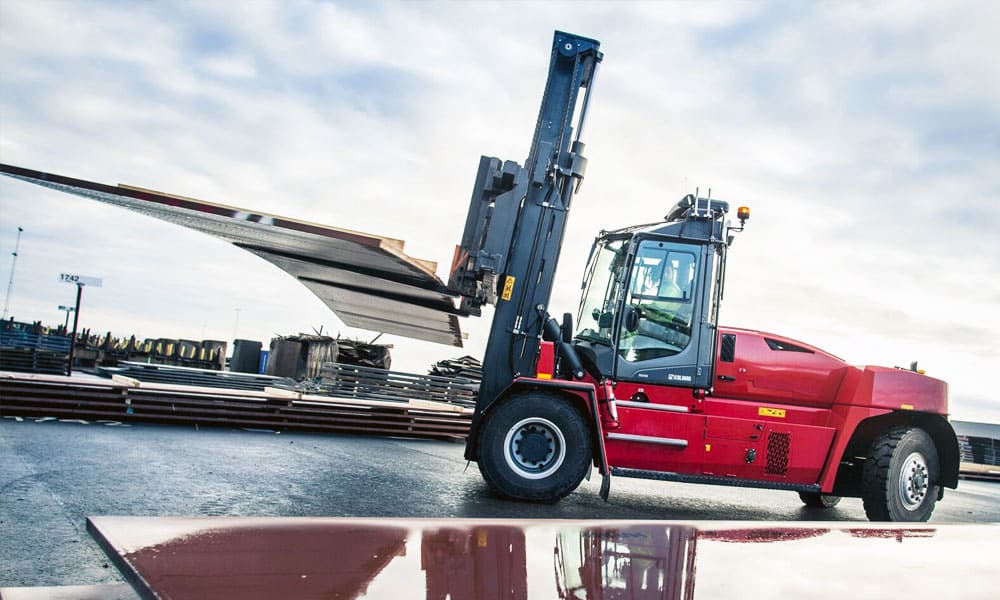 Kalmar
If your material handling needs involve handling container equipment, we think Kalmar is the answer. Under the umbrella of Cargotec, Kalmar has been manufacturing solutions for heavy-duty material handling needs since the 1940s. Those who work in port and container applications are well aware of the need for reliable and rugged equipment. That's why we recommend Kalmar. They were at the forefront of successfully designing reach stackers and have introduced more modern terminal automation in later years.
For those who need solutions to cargo handling, Kalmar provides a wide range of traditional IC, as well as newer electric models.
Applications: Ports and terminals, distribution, metal, forestry
Jungheinrich
In 2017, MCFA (see above) became the U.S. distributor for Jungheinrich lift trucks in a collaboration that also included the manufacture of industrial parts. But the Jungheinrich name, which like us, has been around for more than 65 years, carries a promise of German ingenuity and reliability in its line of material handling forklifts and equipment. Through the years, a reputation for industry knowledge and a foundation built on trust has resulted in a long history of reliable material handling solutions.
We offer a large variety of electric Jungheinrich solutions. This equipment is known for a top choice in narrow aisle applications and is unique among North American offerings in that the company has incorporated the latest in automation, with the possibility of employing this equipment in wire or rail guidance systems.
Applications: Food and beverage, warehousing, material handling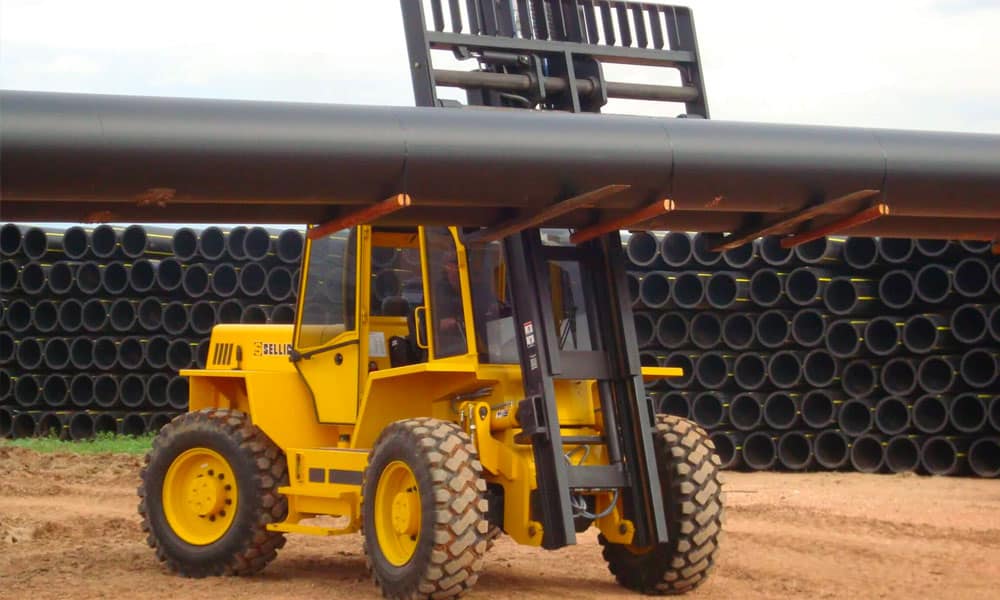 Sellick
Rough, tough and reliable. These are some of the words that may come to mind when you think about the Sellick line of lift trucks. This homegrown company was started with good old American ingenuity, when Walter Sellick and his sons, Howard and David, decided to tinker around with a Ford tractor and ended up with a 6,000-lb., outdoor-use forklift. This was in 1969 and the company has only honed its expertise with rough-terrain lift trucks since. Although the Sellick brand was acquired by Avis Industrial Corporation in the 90s, those who need this type of HD material handling solutions trust the name. Safety and operator ergonomics, plus the latest in IC technology, are incorporated into these rugged trucks.
When you need productivity and efficiency in heavy industrial applications, look to Sellick for the solution.
Applications: Forestry, construction, beaches, agriculture
Hubtex
Got carpet? How about lumber or piping? If your material handling application involves long, bulky and awkwardly-shaped loads plus narrow aisles, the Hubtex multidirectional and sideloader line may be the answer you've been seeking. What is the sideloader difference?
Traditional counterbalanced trucks lift in front of the operator. When the load is long and bulky, this can obscure the operator's vision, turning the placing and stocking of such materials into a dangerous hazard. Instead of heavy, awkwardly-shaped loads being over the operator's head while storing, the load is positioned on the side. It saves time and money, too.
If you need to maneuver long loads into narrow confined spaces, you may want to check out Hubtex.
Applications: Automobile, building materials, sheet metal, foundry, glass, timber, aviation, wind and solar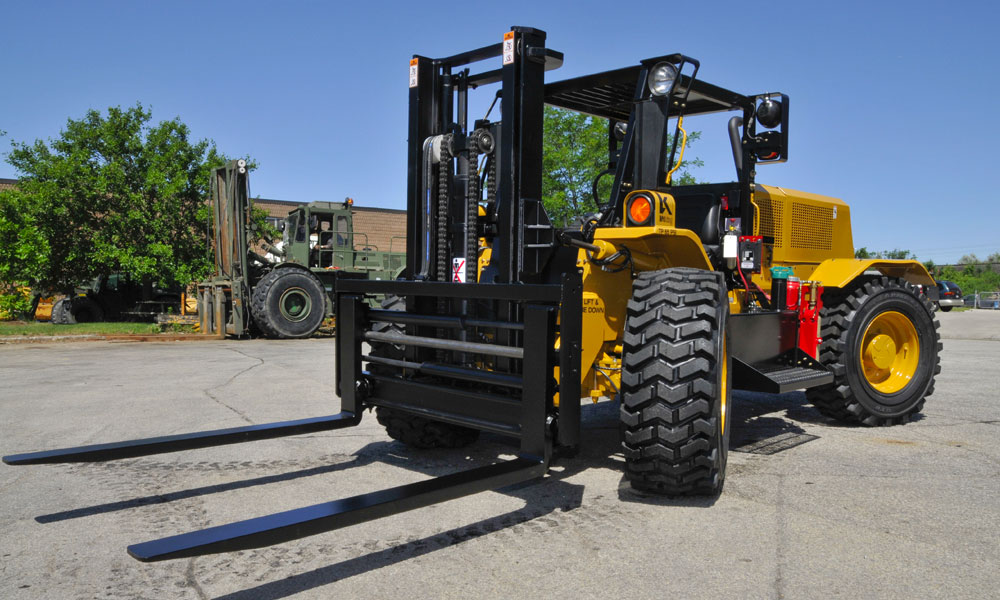 Liftking
Another company that's been around for a number of years, Liftking rough terrain lift trucks are completely designed and built in-house for total quality control. For more than 50 years, this brand has been the go-to for heavy-duty commercial and military applications. With safety at the top of the list, these beasts of the lift truck industry incorporate the latest in military technology to perform with your productivity in mind.
Need to lift 5,000 lbs? How about 65,000 lbs? This homegrown lift truck and other heavy-duty material handling manufacturer has a variety of models to choose from for your specific application. Rugged. Reliable. These are the words that come to mind when we think of Liftking lift trucks.
Applications: Heavy-duty commercial, military, energy, construction, lumber, agriculture, mining
What Forklift is on Your Valentine's Day list?
We all want a little love on Valentine's Day. But what we really want is better intralogistics in our material handling applications. At Darr Equipment and our subsidiary 54 Intralogistics, we've got the equipment, plus the expertise to apply it for your best, most productive and efficient operations. Our partners in our "heart of line" lift truck equipment have been hand-selected because, like us, they've been around long enough for us to know and trust them. Contact us today to find out how we can help you.