Thursday, Sep 17, 2020
The Benefits of Preventative Forklift Service & Maintenance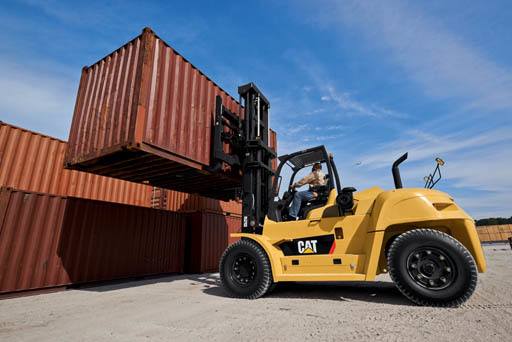 Forklift service should be performed regularly in order to avoid costly repair issues. It is suggested that forklifts be serviced about every 200 hours of use. Then the question becomes time use or actual pedal use? Determining use is comparable to the little sticker that an automotive repair facility places on your windshield after an oil service showing the "Next Oil Change: Date and Mileage" recommendation. There is a mile use and a time use distinguished. With forklift service, it is a pedal use and a time use distinction.
Forklifts also require a daily maintenance check, usually by shift, that should be documented per OSHA regulations. Having a pre-operation checklist available is important and plays a significant role in making sure that all safety measures are being observed and adhered to. This is helpful in documenting both time and pedal usage so the correct forklift maintenance schedule can be practiced and adhered to. During these inspections, if a problem is detected, schedule the forklift for service with your forklift repair company.
Daily Forklift Service Checklist
There are things such as tire pressure, outside equipment conditions, and operational gears that need to be checked before an operator hops in and goes to work with the forklift. It is important that operators have been trained on what to look for that may be problematic.
In addition, there are apps that can assist in the daily and shift checklists for operators which is another form of documentation that the equipment is being checked daily. Using the app will also ensure that the operator understands the importance and that nothing is forgotten on the checklist.
Inspections should consist of outside and onboard inspection. The outside inspection would include things such as:
● Checking for leaks: Walking around the equipment and checking visible hoses and giving a glance under and around the equipment for pooling can prevent a bigger problem if fixed before the equipment is fired up.
● Checking for damage to the equipment body: A quick walk-around to see if there are visible protruding pieces or dents that may interfere with operations should be noted.
● Checking tires for cracks and air pressure: If the tires show excessive signs of wear or appear flat, now would be the time to fix them.
● Checking fluid levels: Part of making sure equipment is operational is making sure all of the fluids are maintained. Not having the proper levels could blow an engine.
The inside inspection would include things such as:
● Mirrors: Check mirrors to ensure that you are able to see and that they are not cracked or damaged.
● Carriage operation functionality: Go through a few test operations to ensure that all gears and levers are operating correctly.
● Brake and clutch pedals: Give a few presses on the brake and clutch to make sure they are operational.
● Indicator lights: Make sure that if there is an indicator light on that shouldn't be, you address the problem before working the equipment.
● Steering is operational: Test the steering in order to make sure that it is functioning as it should. The last thing you want is to lose control of the equipment while in operation.
Preventative Maintenance
Maintenance should always be proactive. There are several software systems and apps that can track maintenance schedules to make forklift maintenance and scheduling a breeze. Forklift Maintenance Plans are also available through many service providers that take the guesswork out of the equation and extend the life of your equipment.
Preventative forklift maintenance should include checking on the following:
● Fluids
● Tire pressure
● Brakes
● Filters
● Belts
● Hydraulic systems
Setting up preventative forklift maintenance will ensure the life of your equipment and the safety of its operators. It will also save considerable time and money.
When setting up your forklift maintenance schedule, some other things should be taken into consideration such as the age, use time, and history of maintenance required on the forklift. These factors may increase the need for more frequent maintenance and is something that your provider can go over with you.
Why Forklift Service Is Important
The cost of repairing a forklift is about four times higher than taking advantage of a preventative forklift service schedule. A service schedule isn't just about the money. Outlined below are several other key reasons that you should stick to a regular maintenance schedule.
Protecting Your Investment
Forklifts are not inexpensive. By utilizing forklift service and daily checks, you protect this investment. The cost is not only monetary but also in employee safety and productivity.
Employee Safety
A maintenance schedule coupled with proper operating procedures and training is of paramount importance.
OSHA Fines
OSHA fines are higher without documented forklift service. When OSHA inspects equipment, they look for a service record to ensure that you are being compliant with OSHA regulations by properly maintaining equipment for employee safety in operation. If the proper documentation is not presented, or is not orderly, or if known maintenance issues have occurred but have not been reported as fixed, the fines OSHA imposes for these infractions will elevate.
Avoiding Downtime
With regular forklift service, you avoid surprise breakdowns and downtime. This increases productivity and allows for the extended life of your equipment.
Increased Resale Value
When it is time to sell, you will have documentation that the forklift was maintained and cared for, increasing its value.
Simple solutions go a long way in saving time and money with proper forklift service and maintenance. Forklift service plans, like those offered by Darr Equipment, resolve a lot of these problems and take the work out of troubleshooting your service requests. Contacting us today to learn more.