Monday, Jan 17, 2022
Utility Vehicles: Moving People & Products Faster
It's a new year and you might be thinking it's time to take your material handling and distribution center warehouse operations to the next level. New Year's resolutions can be hard to follow through on, but with the right plan, the right help and the right attitude, you can turn your material handling warehouse into a smooth-flowing machine. There are plenty of ways to start improving your material handling or DC warehouse as we go into the new year. One of those ways is by making the best use of utility, burden and people-mover vehicles.
Upgrading a Warehouse
A smooth-running warehouse is what everyone in the material handling and DC arena wants to see when they look out over the floor. With the tests we've all faced over the last few years – starting with and continuing with a major workforce shortage – finding new and inexpensive ways to get product and people from point A to point B in an organized and efficient fashion is at the root of our challenge.
One solution to that challenge is utility vehicles. Utility vehicles come in a relatively inexpensive array of models, designed to meet everyday challenges in a safe manner. Whether you have a minimal operation focused on moving a specialty product line or you're running a 24-hour application, utility vehicles can help you move product and people faster and more efficiently. Let's take a look at some of the utility vehicles offered through the Taylor Dunn lines.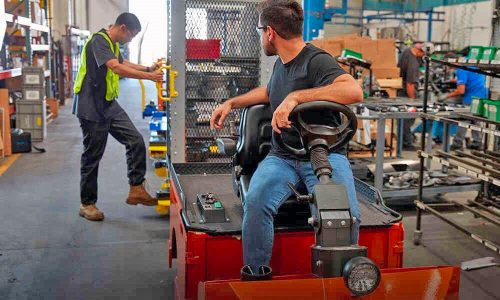 Taylor Dunn
With customization available, Taylor Dunn produces vehicles designed to meet the challenges of indoor and outdoor applications including manufacturing and warehousing, public and private institutions, aviation, government and more. Whether you prefer gas- or electric-powered, these vehicles are an inexpensive way to move product, people and supplies.
Personnel Carriers
Whether you need to move a group of people with luggage or two people with briefcases, there is inexpensive, yet reliable, equipment available. At Taylor Dunn, designing people movers to operate in a safe and efficient manner is the standard. With a wide variety of models, including roofed and with sides, you'll be able to move people in almost every environment.
Utility Vehicles
Choose from a variety of models designed to cover the scope of light-duty to medium-duty to heavy-duty. These vehicles are made with safety and operator ergonomics in mind. With the ability to carry up to 1,000 pounds and tow up to 7,500 pounds (light duty), 2,400 pounds and tow up to 8,400 pounds (medium duty) and up to 3,000 pounds and tow up to 10,000 pounds (heavy duty), whatever your application is, you can find a Taylor Dunn utility vehicle to handle the job.
Stockchasers, Tow Tractors and Industrial Carts
Taylor Dunn offers a wide variety of stock chasers, tow tractors and industrial carts for your material handling and DC warehouse applications. Taylor Dunn understands today's challenges of operating in narrow and tight spaces and their line of indoor material handling and DC warehouse utility vehicles are built to have a tight turning radius.
Available in gas, diesel or electric, their tow tractors are easy to use, safe and ergonomic for operators and built to last for both industrial and ground support indoor and outdoor applications.
Industrial carts are geared for narrow aisle and tight space use. Use one or multiple units to ferry a variety of shapes and sizes from point A to point B in a more efficient way than traditional man power.
Utility on Sale
Utility vehicles run the gamut from a multi-passenger luxury ride at a resort to a stockchaser in a warehouse. For the material handling and DC warehouse world, utility vehicles are most useful for:
Reducing stress and strain on human workers – Let's face it. A material handling and DC warehouse is basically just a lot of ferrying stuff from one point to another point. With the workforce challenges we all face today, taking some of the stress and strain off your human workers not only reduces medical claims and sick days, it speeds up productivity and efficiency. Let a burden carrier take the weight.
Working in tight, confined spaces – We depend on our forklifts to do most of the heavy lifting in our material handling and DC warehouse, but the typical forklift won't fit in today's narrow aisle spaces. There are narrow aisle solutions for that, but for a fraction of the cost, you can employ a small, compact utility carrier to bring items from the shelves to the end of the aisle to meet a regular forklift.
Transportable – If your job takes you offsite, you'll be able to transport your utility vehicle a lot easier than your regular forklift.
There are plenty of good reasons to look at making use of utility vehicles in your material handling or DC warehouse application, not the least of which is cost. At Darr Equipment, we can help you decide which utility vehicle will meet your specific challenge. Contact us today for more information.