Friday, Sep 23, 2022
Get Schooled On Utility Vehicle Application Benefits
In many respects, the material handling and distribution center warehouse industry is all about moving goods and products from one place to another. We use a variety of personnel, vehicles and equipment to accomplish that task. And inside our warehouses and yards, we use the appropriate means for efficiently carrying different items from one place to another. Whether you have a large warehouse or a smaller operation, making use of the right kind of utility vehicle is often the answer to saving money and time.
Typically, we talk to the material handling and DC warehouse industry, but utility vehicles find a place in a large variety of applications, so we'll touch on a few of those, too. Utility vehicles are a versatile and economical way to solve challenges involving moving people and things from one place to another.
Some of the benefits that utility vehicles bring to the table include:
Being the original electric vehicles – most utility vehicles were running on electric power before electric was cool, so they are a green (and cheap) method of transport.
Saving time – utility vehicles will move that cargo much faster than your picker or forklift and for many items such as drums, other than carrying, it's the best and quickest way to get from one place to another.
Saving workers – speaking of moving that drum from one end of the warehouse to the other, your workers will thank you if they can load it on a burden carrier rather than become the burden carrier themselves.
Moving items over rough terrain – if you don't need a rough terrain forklift for the job, some utility vehicles can easily handle moving items (and people) over rough terrain.
These are just a few of the ways that utility vehicles can help answer challenges. There are a wide variety of applications that can make use of these helpers.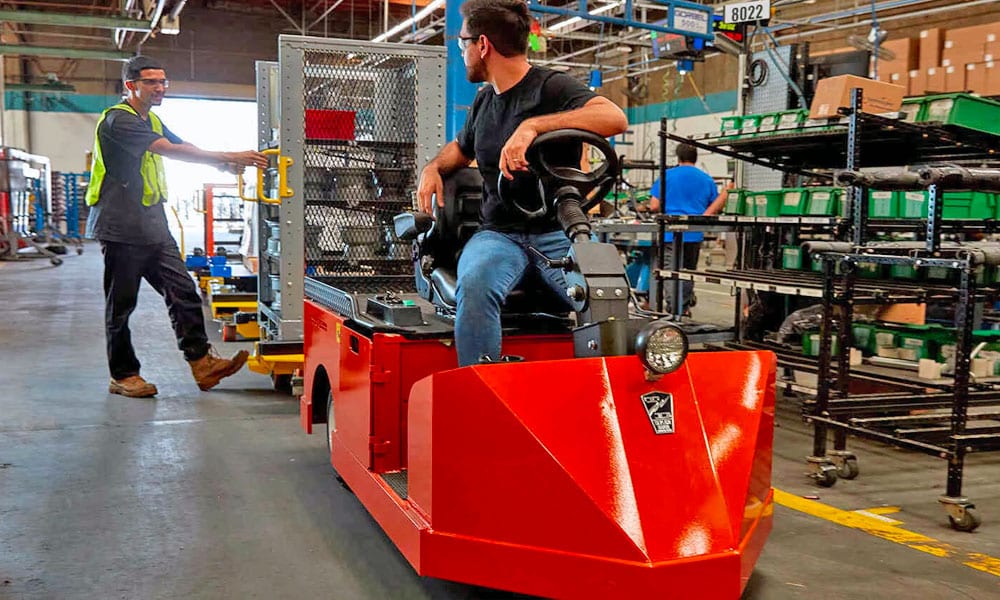 Utility Vehicle Applications
Most industries can find a use for utility vehicles. They are a cost-effective and green way to answer many of the demands of moving people and items from one place to another.
Material Handling and DC Warehouse
Sometimes it's hard enough for warehouse and manufacturing employees to just find what they need to do a job. Depending on the accuracy and conscientiousness of the worker who put it away, a worker may walk around a large warehouse looking for something for a good while. Having a utility vehicle to move that worker from place to place will cut down on the time they spend searching. And depending on the size of the item, he or she will get it to where it needs to go much faster if they can load it on a burden carrier.
Large Buildings with People, such as Convention Center and Educational Sites
This category comprises convention centers, universities and other places that include a large amount of ground to be covered and people that need to cover it. Utility vehicles also include people movers, so you can take a group from one place to another much quicker. It's especially handy if there are numerous groups that need to cover some ground, since you can make multiple trips on one battery charge.
Construction and Agriculture
Whether you have a crew on an apartment building construction site or you are a farmer that needs to feed the cattle, a utility vehicle can move in and out of places much faster and cheaper than a traditional pickup truck. Utility vehicles come in a variety of capacities and strengths, some are built to handle more rugged conditions.
Aviation and Other Ground Support
Whether moving around an airport tarmac or moving people through an airport terminal, utility vehicles are designed to cover a lot of ground quickly and quietly. Carrying supplies in a crowded and congested situation becomes much more efficient when you can maneuver in and out of gridlocked areas.
These are just a few of the examples of industries where the utility vehicle can save money and time, while optimizing efficiency. As mentioned, there are utility vehicles for just about every application.
A Look at the Taylor-Dunn Lineup 
Taylor-Dunn has been an expert in the utility vehicle industry for more than 70 years. With the ability to offer a lineup of vehicles for a large number of industries, Taylor-Dunn also has the capability to customize when it's necessary. At Darr Equipment, we are proud to partner with Taylor-Dunn. Here is a sampling of what we have to offer.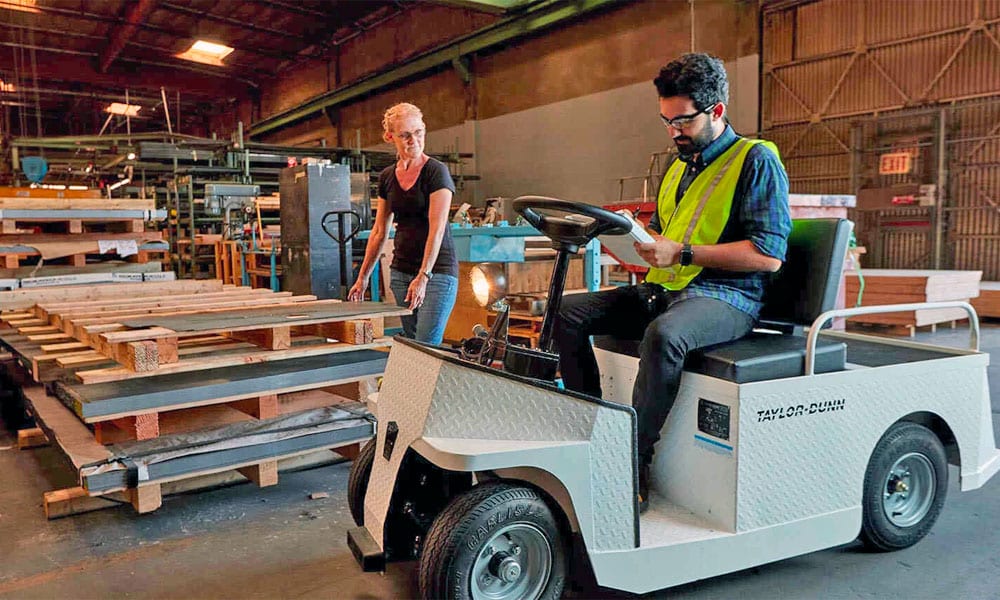 Personnel Carriers
Taylor-Dunn has a selection of personnel carriers to answer any need you have. Need a two-person carrier to get your grounds people around with their supplies? Check. Need to move 16 people and their luggage from the resort check-in desk to their cabanas? Check. Need to provide an all-weather vehicle for your security team to move around your area? Check. The solutions are endless.
Utility Vehicles
From light duty (1,000 lbs.) to heavy duty (3,000 lbs.), Taylor-Dunn utility vehicles are designed for safety and ease of use. The lineup of utility vehicles are designed to tow, as well, and come with a variety of compositions for any indoor and outdoor issue. Need a roof and sides? Got it. Need the back enclosed in a steel box? It's there. And if you need something unique for your special situation, Taylor-Dunn's are customizable.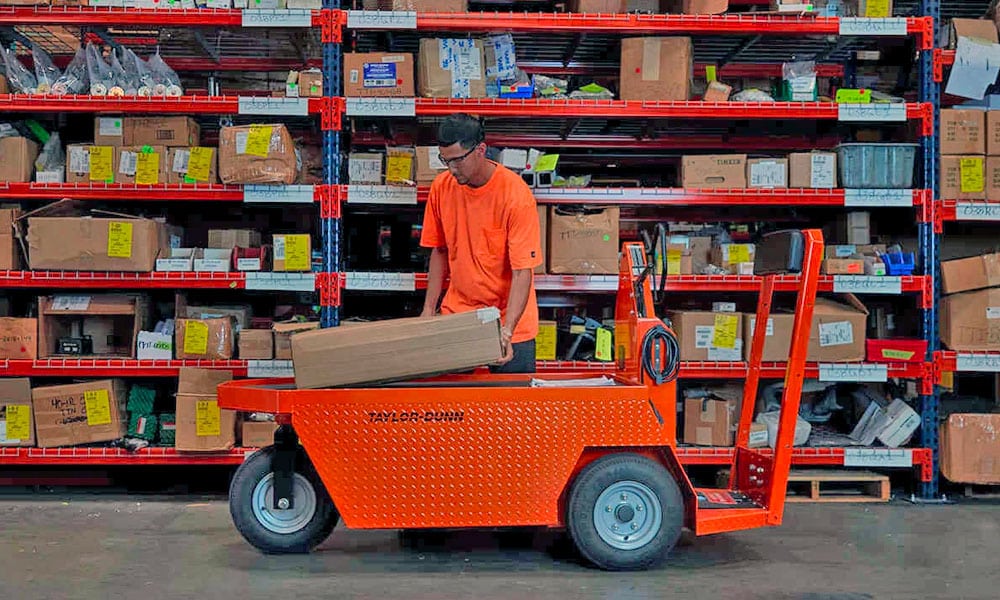 Stockchasers
An alternative – or addition – to your fleet of forklifts in the material handling and DC warehouse industry. Stockchasers are nimble and able to maneuver easily in your narrow-aisle areas. Employees can quickly and easily move around inside your warehouse to find and pick whatever they need.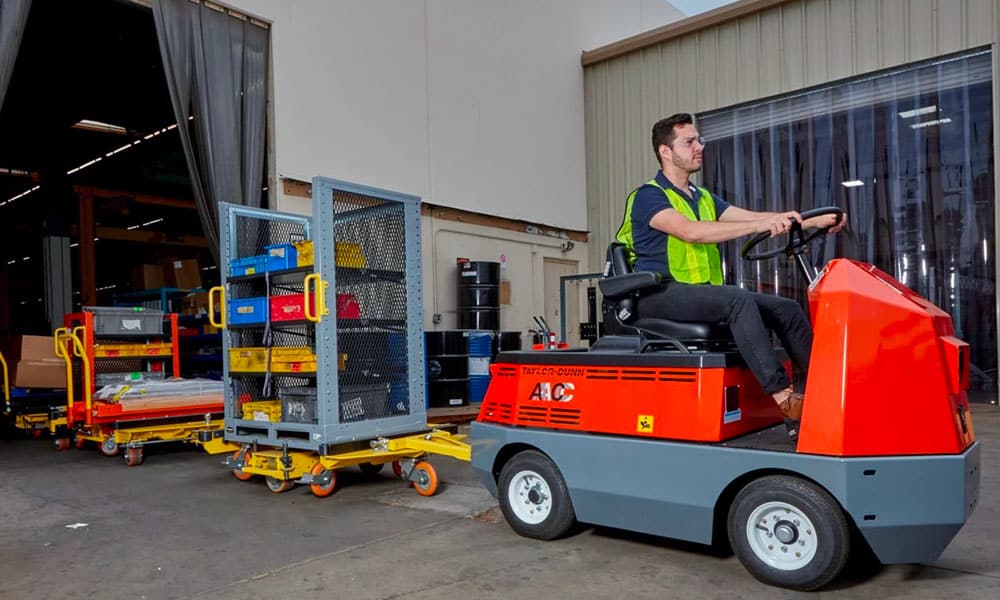 Tow Tractors
With the ability to form a "train" of utility tractors, tow tractors have uses in a variety of applications, including moving pallets in the warehouse to luggage in the airport. After they are finished moving baggage, tow tractors can move the airplane out from the terminal. Versatile and rugged, tow tractors are built with safety in mind.
If you've got something that needs to be moved from one place to another, and you aren't sure what the best solution is, you may want to take a look at the utility vehicle lineup. At Darr Equipment, we can help you find the solution for your application that promotes productivity and optimizes efficiency. Contact us today!